We begrudgingly packed our bags and checked out of our beautiful Tuscany Hotel. Although, new adventures await at Cinque Terre, so off we went.
It was about a 4 hour train ride, but we broke it up with a stopover in Pisa. I had heard that it wasn't really worth it to stay the whole day in Pisa, and we were short on time anyhow. But, being that close, we just had to stop off and at least see the dern tower.
Lucas made fun of me for taking this one, it's definitely of their water drain. I just think it's cool that they call them all aqueducts!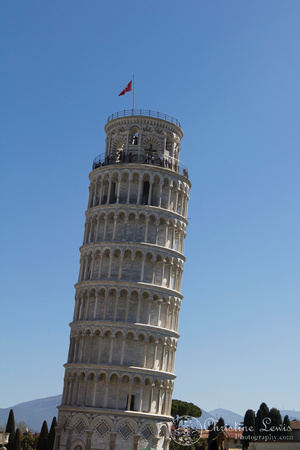 It was definitely worth the 10 minutes we spent walking around and taking pictures of it.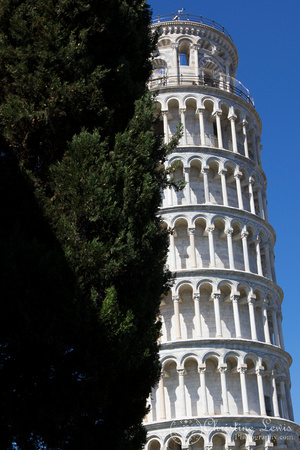 We didn't take the time to go inside, as there was quite a line, but it was cool to see such an iconic building.
The leaning tower is actually the bell tower to Pisa's chapel and the plaza they are all in is called Il Campo di Miracoli (Field of Miracles). Very beautiful.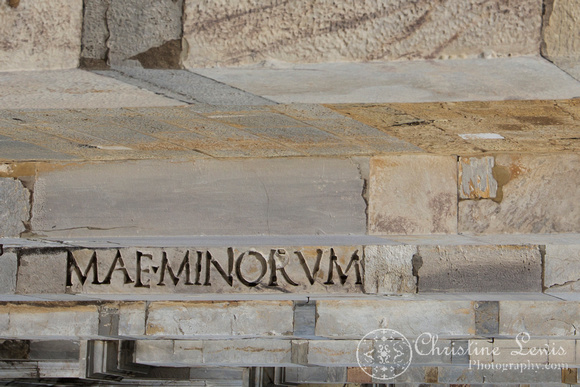 This was inscribed on the side of the cathedral. I looked it up an "Mae Minorum" means "Minor Breaks"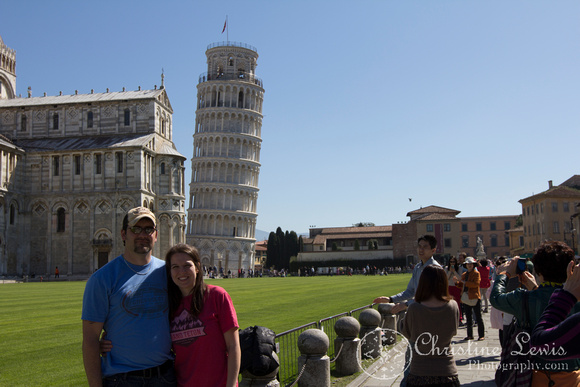 I tried really hard to get a shot of lucas "pushing" the tower, but he just wouldn't do it! I can't understand why:)
We grabbed a quick lunch at a nearby restaurant. It was tucked off the side with pretty flowers along the alley and didn't have annoying waiters out front trying to get us to sit down. That is what made us want to go there! Although, I have my theories about it being a cover for the mafia. We were the ONLY people there the whole time. They can't be making money at this restaurant gig. It was actually really good, but I'd been spoiled so badly by the good food of the past few days that it couldn't compare. This was our first experience with Italian balsamic vinegar and olive oil being delivered to our table. We mixed them, and I swear I ate a whole roll of bread dipped in that stuff. It's sooo good.
The view of the tower from our lunch spot
After our lunch, we headed to Cinque Terre. Cinque Terre is a UNESCO World Heritage Site and a National Park. It's made up of 5 villages on the Italian Riviera: Riomaggiore, Manarola, Corniglia, Vernazza, and Monteroso al Mare. There are hiking paths that connect the villages, as well as trains, and boats that can ferry you to each village. What's nice is you can't take your car! Each little village has brightly colored houses practically stacked on each other on the steep hillside.
We were staying in Vernazza. Once we reached Riomaggiore, the train car suddenly as FULL of college kids in full beach gear. I was under the impression that these quaint little villages were fairly quiet! THIS was definitely NOT quiet. Fortunately, most got off before our stop in Vernazza, but the train station was tiny and packed out. Somehow, our B&B owners heard Lucas say something like, "How will we ever find Annamaria in all this mess?" So there you go. We had a cute little room with a balcony overlooking the roaring creek that ran next to the main street in town.
We wanted to explore some before dinner, so we changed clothes and took off on the hiking path between Vernazza and Monteroso al Mare. I really don't have a concept of how far it was, but I do know the longest distance was supposed to be these 2 cities. I think the problem was that the first 30 min of the hike were VERY steep with LOTS of steps. I need warm up time, people! After it evened out some, it wasn't so bad. And the view was most definitely worth it. You could see the cities from a distance, the beautiful Mediterranean Sea (Or, the Ligurian Sea as it is called right next to the coast), and the coastline.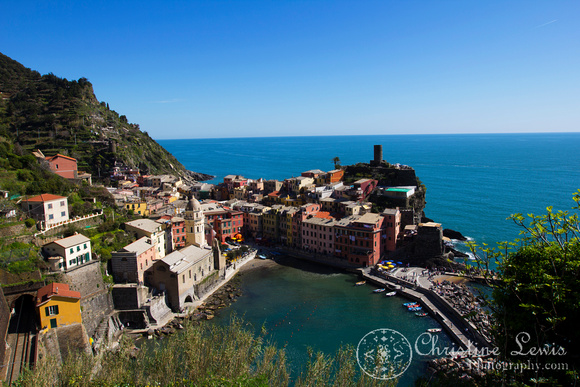 The view of Vernazza from the hiking trail
The view of Monterosso al Mare from a distance
If you look closely, you can see Vernazza as well as another of the villages in the background. That's either Riomaggiore or Manarola.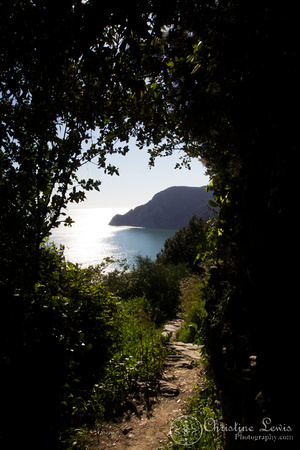 There were just too many gorgeous views to choose from!
In this one you can see Vernazza, Corniglia, Manarola, and a hint of Riomaggiore in the very back.
Did I mention people actually live here? Not only in the cities but on the paths between them. On the downhill part of our journey, we ran across a man inside a little hut on the side of the path. He was selling wine, lemoncello, grappa, and lemonade from a little stand on his property. We tried his lemoncello and I asked him if he was from there. He said he was and that his vineyards were surrounding the hut. His parents were from Cinque Terre. His mom from Monterosso al Mare and his dad from Vernazza. You know there has to be a love story there somewhere. Maybe they met each other walking the paths between the cities? We bought a bottle of wine, and 2 lemonades to last us the hike (the lemonades, that is, the wine we are keeping to try later).
Monterosso al Mare was my least favorite of the 5 villages. It's pretty spread out, and seems more beachy and less "fishing town."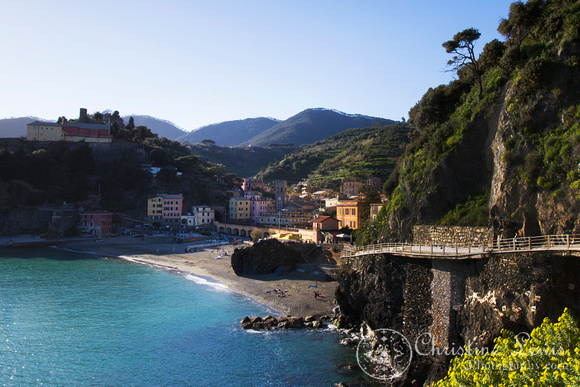 Monterosso Al Mare
After wandering around the streets for a few minutes, we hopped the train back to Vernazza for dinner. We found a cool looking restaurant built way up high in the side of one of the rocks right on the Sea, so decided to eat there. It was called Ristorante Belforte. We sat there and watched the sunset over the Mediterranean.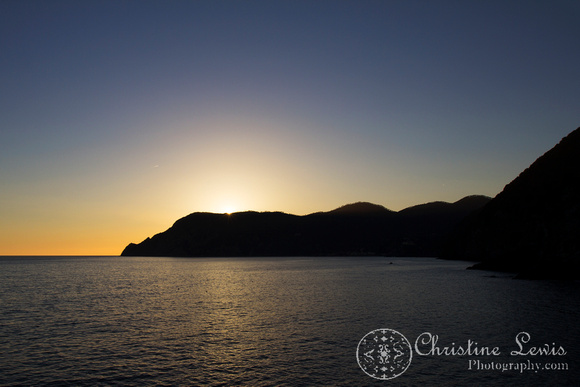 Can't complain about that!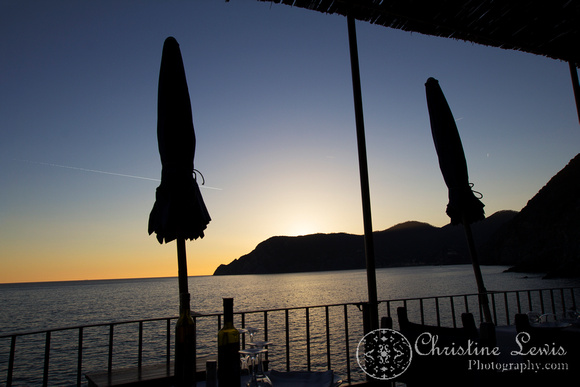 The view from our table
The seafood in Cinque Terre is supposed to be amazingly fresh since it's right on the coast, so we decided to branch out and experiment with our menu choices. We started with a safe cheese plate (YES! More pecorino cheese), and a bottle of house red wine. Really, I don't think Italy makes a bad wine. For main course, Lucas ordered something like "Assorted Seafood" plate. I ordered the Scampi. The waiter said it was the best think on the menu. I asked him if it was shrimp, and he answered "Something like that." I assumed it was a language barrier thing, and just went with it. "Something like that" turns out to be a very accurate description of what I received. First of all, everything we both received still had eyeballs in it.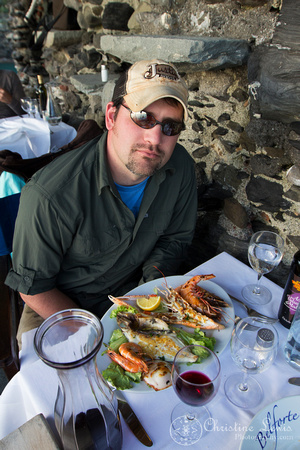 Lucas's plate had assorted seafood as promised. He had a seabass staring at him, as well as some sort of shrimp, and calamari. Which most of us know is squid, but it usually comes so well deep fried that it doesn't matter. Oh no, not deep fried. Squishy and chewy.
My scampi was something that I have dubbed as "shrabs." The looked like huge shrimp, but they had long skinny crab legs coming out the front! I've never seen anything like it. It's not a lobster as far as I know. But then again, what do I know?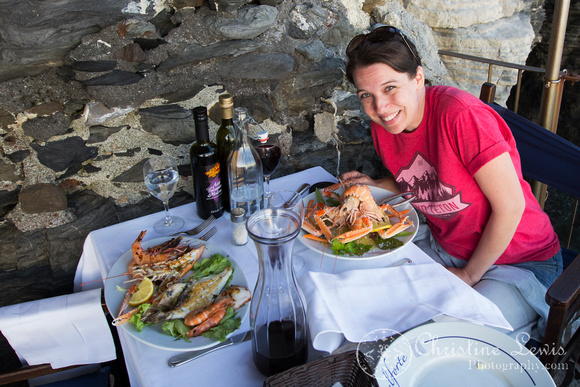 What occurred after that will forever be known as "the massacre at Belforte." If I'm going to eat an animal that is still looking at me, I guess I'm gonna do it right. They gave me scissors to cut open these things that had been soaked in butter and sea salt. Shells and guts were flying everywhere. I tried so hard to do it neatly, but it just wasn't happening. I'd cut open a tail, then try to pry out the meat with my fork and it'd go flying along with lots of buttery salty goodness. The crab-like legs were even harder since they were so thin. I stayed away from the guts and brains. I might be able to man up enough to eat the tail and legs, but guts and brains are out of the question. This food was actually amazing. It was so fresh and so good. It just took some work to get to it! Lucas loved his too, minus the squid which he somehow talked me into trying. He hates shellfish, so that was a huge step for him:)
For dessert? Our first bonafide Italian tiramisu. It was sooo good. I kinda want to go back now for another one. We were stuffed, but ate it anyway. The espresso soaked ladyfingers were to die for. Our waiter came to take the empty plate with nothing but a cookie left on it and asked, "Why no biscuit?" My only answer? I didn't want to ruin the amazing aftertaste of the tiramisu. He totally got that.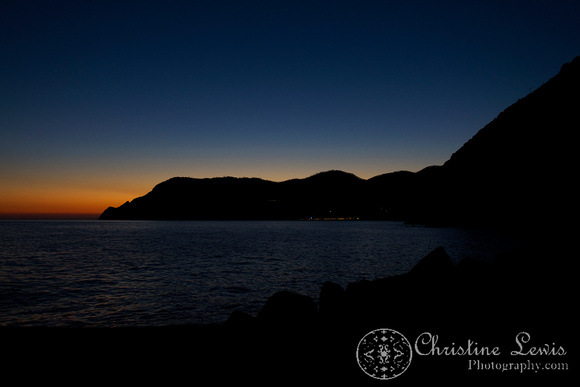 The sun had just gone down, and it was starting to get dark. I really, really wanted to take some night time pictures of Vernazza from the hiking trail. Somehow, I talked Lucas who is typically the very cautious type into running to the overlook for a few pictures. And I mean running. Do you remember how much I complained about going up the steep path for about 30 minutes before it levelled off? Yeah, we ran it this time. Shrabs, cheese, wine, and tiramisu all sloshing around. But, by god, we made it!
And we do have the pictures to prove it:)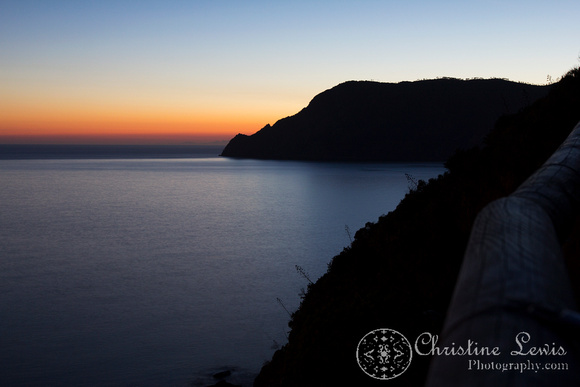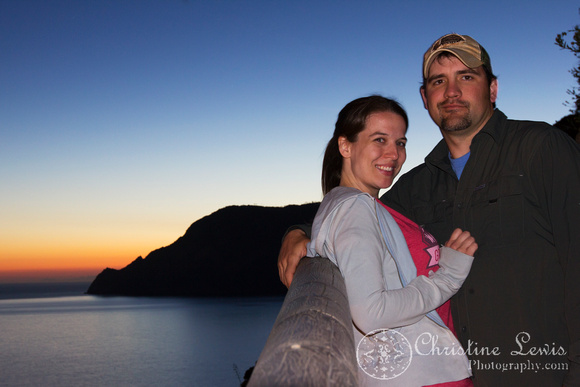 After catching our breath, we took the relatively easy downhill climb back down to Vernazza and slept soooo soundly with the creek as our white noise. I heard nary a noise from the streets, and not a single annoying dog. Ahhhhh.
Want to follow us on our trip? Read Days 1 and 2, Day 3, Days 4 and 5, Day 6, Days 8 and 9, Days 10 and 11, Day 12, and Days 13-15.
Select images from the trip are available for purchase. They can be found here.