So, this was kind of a last minute trip. We knew we wanted to go SOMEWHERE the last weekend in October, but weren't sure where. We had discussed possibly the Natchez Trace, but really wanted to catch some fall color. So on Friday, the day before we left, I endeavored to plan a Blue Ridge Parkway exploration, and...so did everyone else in the country. After a morning full of failed phone calls, and tears of frustration (I'm pregnant, ok!), I had one Inn near Asheville call me back and say they had a cancellation if we'd like to take it. YES! A couple hours later, I also had a reservation near Meadows of Dan, VA (there were only about 4 options) and we had ourselves a trip.
We try to do a weekend trip like this each year. Lucas gets to drive a toy on windy mountain roads - in years past, a motorcycle, but this year his Corvette - and I get to take pictures of pretty mountains and trees. Pretty much perfect for us! Everybody's happy. It was a little bittersweet, as the Corvette only seats two. We'll have to figure out another arrangement for next year when we have Baby Sawyer with us! He sure isn't getting strapped to a motorcycle.
Saturday, Day 1: Cherokee, NC (Mile 469) to Weaverville, NC (Mile 375)
The Blue Ridge Parkway starts in Cherokee, NC. We have driven the Tail of the Dragon in Deal's Gap, NC and the Cherohala Skyway in Robbinsville, NC numerous times, and they are favorite drives of ours, but they end up near Cherokee so we've been there done that. We took the Cherohala Skyway just to have a little more scenic route to the start of the parkway. It was mostly green, and not a lot of color yet, so we didn't make too many stops. Just let Lucas enjoy the drive:)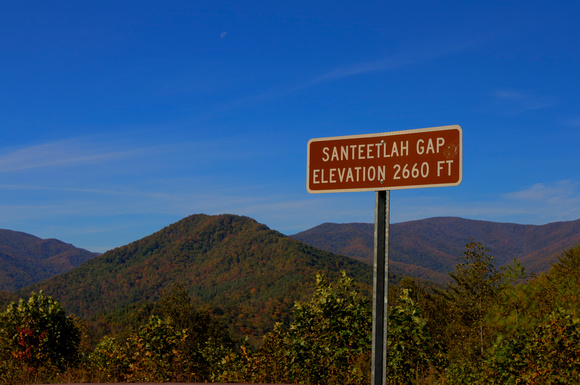 We did stop at Santeetlah Gap at the end of the Skyway and I snapped a few shots of the beautiful mountains there.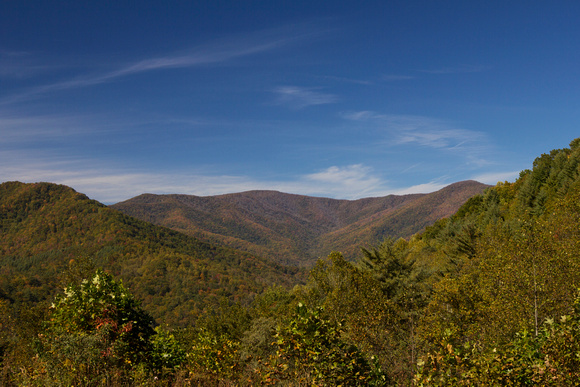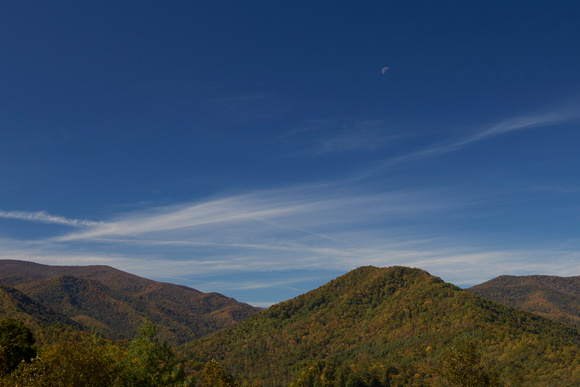 You can even see the moon in this one!
Then we skipped all the touristy stuff in Cherokee and went straight to the parkway entrance. And came to a dead stop. Closed.
Ok...so we went back through the touristy section of Cherokee, rode about 15 miles down an alternate route and picked up the Blue Ridge Parkway at around mile marker 455. Everything on the parkway is noted by what mile marker it's on. Cherokee is at mile marker 469 and it counts all the way down to 1 somewhere north of Roanoke, VA. The road connects Smoky Mountain National Park to Shenandoah National Park. The road itself is part of the national park service, and there are various and sundry other parks directly off the road along the way if you'd like to stop and hike and/or camp.
So, we were finally on the parkway. The speed limit on the parkway is mostly 45mph, and considering it's windy, curvy mountain roads, that's probably more than enough for most people. You'd think you would get stuck behind a ton of very slow drivers, and you do, but there are overlooks practically every tenth of a mile, so typically we didn't have to just sit behind a slow driver for very long. Of course, we did our own fair share of stopping at overlooks.
These are some random, beautiful overlooks. Each and every one is named, but there were too many to keep track of!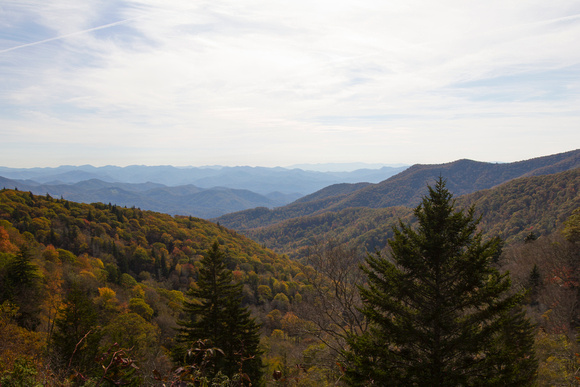 It's just so hard to know! You get to one and you don't know how long it'll be 'til you get to the next, or if this is the best view, or if a better view is coming! I tried to pick and choose, but you also have to decide super fast before you drive by. Turning around would be a PAIN! And, being in the Vette, we actually had to only stop at overlooks. Many people just pull off the side of the road and wander around, but it sits way too low for that. Lucas made it clear that this was not an option.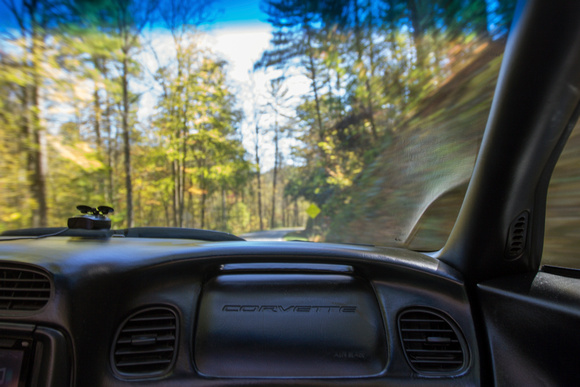 As for color, at the bottom of the mountains everything was green. Once we got to the top of the mountains, everything had already fallen. Sigh. Oh well. It was still a fun adventure sans the gorgeous fall color I was hoping for. Occasionally, we'd find spots of color around 3000 feet, but it was hit or miss.
The highest point on the parkway was not very far into our trip. Richland Balsam overlook is at mile marker 431. It's 6053 feet high. The pines up here are so pretty, and they made a perfect little window to catch the beautiful Blue Ridge Mountains in the distance. There may not be any fall color, but those mountains stay blue:)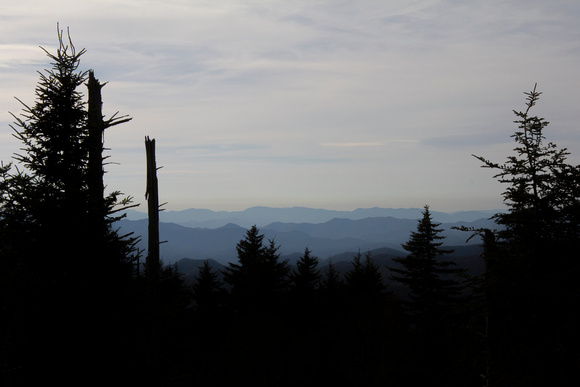 This is one of my favorite images from the trip, taken at Richland Balsam. I love how the blue mountains are silhouetted by the pines.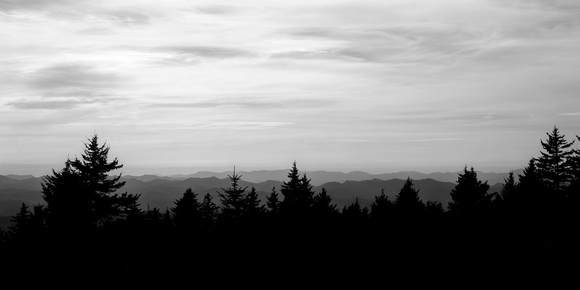 A little further down the road is the Devil's Courthouse (Mile marker 422). It's basically a big ol' gnarly looking rock sticking out of the mountain. In Cherokee lore, the cave that is under the rock is the dancing chamber and dwelling place of the slant-eyed giant, Judaculla. Sounds creepy to me. There's a 0.5 mile hiking trail to the summit, but we opted out. It looked super strenuous, and as previously mentioned, I'm pregnant. I'm actually at that stage where I have quite a bit of energy and feel like I can take on the world, though. Lucas pulled a hip flexor or something fun like that playing flag football the night before, though, and I decided I'd give him a day to rest:) Priorities, really, tomorrow there are a few waterfalls I want to hike to!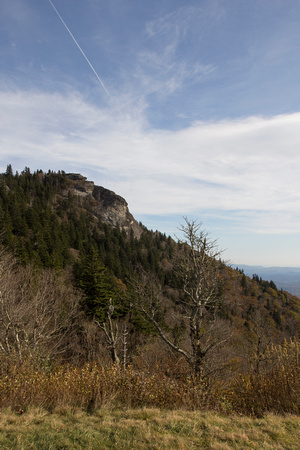 Yeah, there are actually teensy tiny people on top of that rock!
A little lower in altitude and later in the day, we were finally able to put the top down. What good is an open road in a Corvette convertible with the top up?? Ok, we still had to blast that heat, as it was in the 40's at times, but it was so worth it to be bundled up in our jackets and toboggans with the top down:)
We passed up a few of the more popular upcoming stops. I really wanted to hike around Black Balsam Knob, which is supposed to have awesome views of the Pisgah National Forest from a grassy bald, which means no up close trees to block your view. It's off a side road, and not even 100 feet down the road, there were pot holes that drop off about a foot into the road. And of course they went all the way across. Needless to say, we didn't try it in the Corvette. We passed up Graveyard Fields as it was getting later and it looked like it hadn't rained in forever, so the little waterfalls were probably dried up.
We did make a stop at an overlook to capture Looking Glass Rock (Around mile 417). Apparently, in the winter, the water freezes on this cool looking mountainside and is very reflective. Like a looking glass. Get it?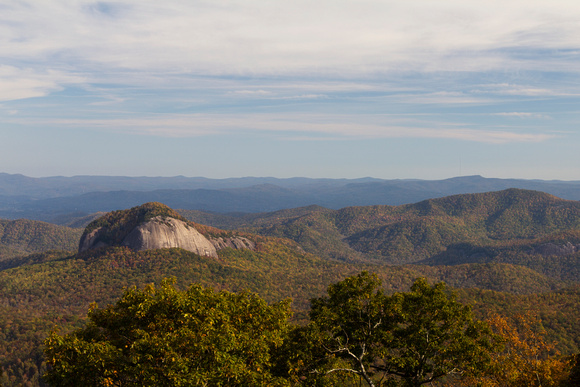 At this point, we were close to Mt. Pisgah (Mile Marker 407). There was a hike to a fire tower I really wanted to go to, which promised the best views of the area. It was at mile marker 408, but I had to go to the bathroom soooooo bad, that we passed it up to make it to the Mt. Pisgah Inn. Which, thank God, had bathrooms (Yes, I'm pregnant!). Did I mention this whole road is part of the park system? There are no gas stations, no fast food restaurants, etc. That makes it beautiful, but there are no bathroom stops! For some reason, today's leg of the journey also did not include hardly any campsites, which was pretty much the only place around that might have a chance at a bathroom.
My grandparents live in Weaverville, and had agreed to take their own scenic drive down the parkway to meet us at the Pisgah Inn Restaurant for dinner at 6p. When we arrived around 5p, we were going to go back out to Fryingpan Tower after I used the facilities, but the restaurant was SO packed, that we decided we'd go ahead and put our name in and stay. This is the only Inn on the parkway for MILES. I tried to get a room here first, but it was most definitely sold out. It's also one of the only places to eat on the parkway. They have a very captive audience here. To eat, you typically have to drive a good 20 minutes off the parkway to find something. Fortunately, they had a beautiful overlook for us to watch as we waited for my grandparents to arrive.
This is a HUGE panorama of the overlook at the Pisgah Inn.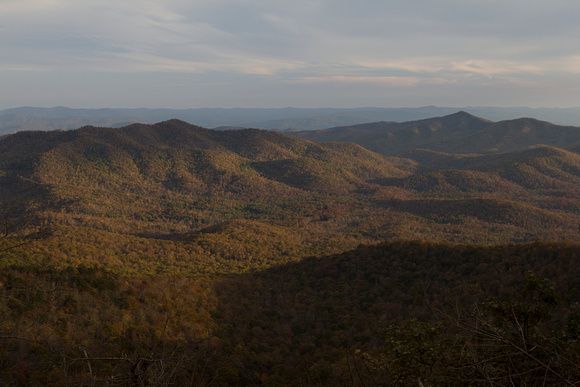 And, some details from the view.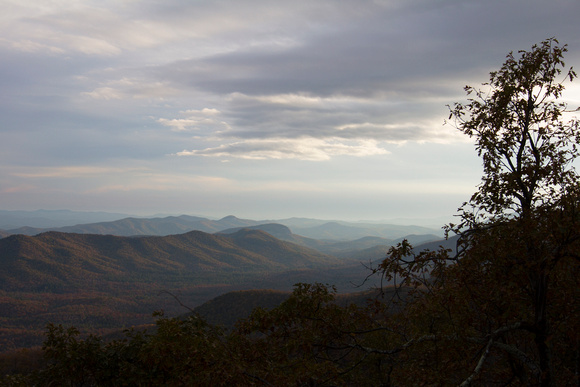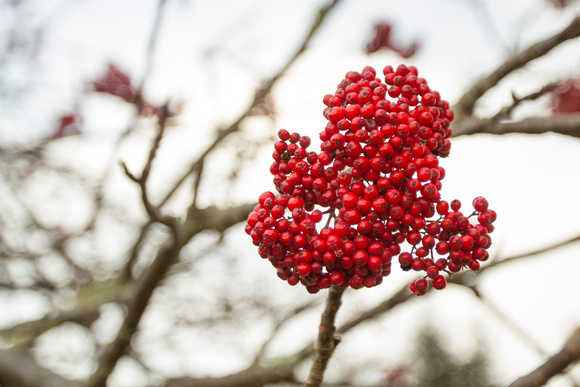 These pretty berries are on a tree called a Mountain Ash. Looks very Christmasy:)
Ok, time for my former waitress rant of the day. They didn't open the restaurant til 5p. If you get there at 5p, there are already enough people on the wait list to fill every single table in the restaurant, thus the seating goes in "waves." I would hate this as a server, all your tables would fill up at once, empty all at once, and then fill up again all at once. Not staggered at all. So, if you miss the first wave (as we did), your wait is "About 1-1.5 hours when the first group is done eating." It would make being a hostess quite easy.
Fortunately, we were in no hurry and we had great company:) When we did finally get sat, it was most definitely worth the wait. I ordered the Pisgah Pasta with French Onion Soup. The soup was amazing. The pasta, very good. I tried Lucas's salmon and it was also very good. The view, of course, was to die for. We were able to watch golden hour, then beautiful pink sunset light reflected on the mountains. That was right when the food came, so I didn't get up for pictures. I do have my priorities! Sometimes, it's better just to take it all in.
Grandma and I talked about baby stuff: nursery, quilts, etc. They are moving to Chattanooga soon and I'm SO excited that Sawyer will get to spend more time with them than I ever did when I was little:) To top off the night, we got a slice of French Silk Pie to share. If you go there, don't miss this! It was extremely rich and decadent and worth every calorie. I highly recommend it.
Grandpa tried to talk me into taking an alternate route to our Inn, because it would take longer to drive the parkway and after all it was dark, but no way! This is our parkway trip, and we need to drive the parkway! I'm not at all stubborn:)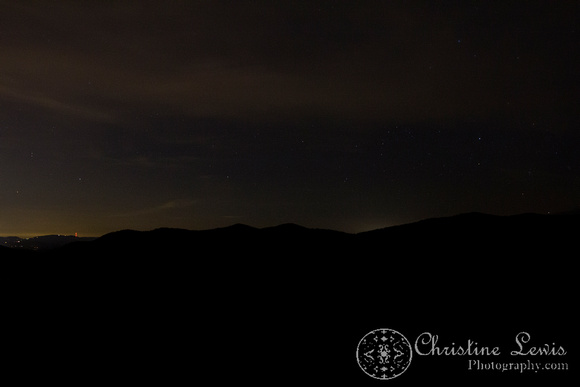 We did stop once to justify staying on the parkway. Not my favorite shot as there were hardly any stars out, but fun to play anyhow!
For the record, there is an awesome Folk Art Center around mile marker 382 that we didn't go to, because I've been there numerous times when visiting my grandparents. If you are going, it's worth the stop. I love me some folk art:)
Our hotel, The Sourwood Inn, was right around mile marker 375. It was only about 2 miles off the parkway. Turns out, it was also only about 5 minutes from my grandparent's house! Now, I've never gone to their house by way of the parkway, so had no idea they were so close. I thought it'd be a good 45 min drive or so. Yeah, so all that stressing yesterday about finding somewhere to stay? We totally could've stayed at their house. The best bed and breakfast anyone could ask for:)
The Sourwood Inn would come in as a VERY close second place to their hospitality, however. This place was stunning, and amazing, and homey, and beautiful, and perfect. Ok, one flaw: the driveway down to it is gravel and very steep. Difficult on a Corvette, but once you get there, you'll forget that totally. It's rustic like a log cabin, and each and every room has its own fireplace. They have it stocked with wood and matches. Each room has its own balcony. The rooms are impeccably clean. The bathrooms include big tubs and beautifully tiled showers. And they seriously have the softest toilet paper I've ever felt in my LIFE! It's the details that matter, really. Plus, it actually ended up being a little cheaper than the Holiday Inn that was 45min off the parkway. The lady that checked us in was so incredibly nice. Even when we thought the flume was open and caused smoke to billow into our room, almost causing fire alarms to go off. She nicely helped us air out the room and avoid any alarms.
I really didn't want to go anywhere else after coming here. It's one of those places that you could just stay the whole weekend. They have game rooms, public fireplaces, little nooks to read, and even hiking paths outside. There'd be no reason to continue our vacation elsewhere.
Once we got the fire successfully roaring with the smoking going in the right direction, it was seriously the nicest, coziest experience we've had at a hotel. All it was lacking was a glass of wine (Dangit, Sawyer!). That night, we fell asleep listening to the crackling of the fireplace. Ahhhhhh.
More adventures to come tomorrow! Be watching for the blog for the 2nd day of our trip:)
Find all images of the Appalachian Mountains by Christine Lewis Photography here.