Sunday, Day 2: From Weaverville (Mile 375) to Meadows of Dan, VA (Mile 175)
So the downside to that crackling fire is that around 3p I felt like I had shriveled up like beef jerky. We even left the door open to let out some heat, but boy was it dry!
In the morning, after lathering up with lotion, I did have to admit to Lucas that he was right. I hate it when that happens. Part of the frustration of planning this trip, was that I wanted the full experience. I didn't have to camp, necessarily, but maybe one of those cabins with a shared bath house? Lucas adamantly refused, saying he wanted to be comfortable, and besides, I was pregnant and would have to get up to go to the bathroom multiple times in the night. I needed to have somewhere with its own bathroom. This started the "Don't make this about me!" conversation, etc, etc.
After waking up at least 2 times in the night and realizing it was below freezing outside, I could imagine how cranky it would've made me to go find a community bathroom in the dark. The Sourwood Inn was waaaaay better. Plus with the fireplace in our room, it was close enough:) It was our version of glamping. Yes, I said glamping. It's an actual thing - glamorous camping, or something like that. Look it up!
They supplied an expectedly awesome breakfast including some sort of healthy pancakes (that actually tasted amazing) with apple topping, fresh fruit, and bacon. After stuffing ourselves, we headed off for the next 200 miles of the parkway. Well, first we had to go into town to find some gas. There are NO gas stations on the parkway, but that's why it's so beautiful:)
One of our first stops was at mile marker 364, Craggy Gardens. It was crazy cold and windy, but it has a beautiful overlook on both sides of the road which is very unusual. The whole trip we pretty much decided the right side is the pretty side and the left side isn't so much. The left side was mostly just brown. The right side had the pretty blue mountains. So, we went straight for the right side. There's even a little visitor's center at this overlook, but bathrooms closed.
Apparently, everything on the parkway, even parts of the road, shuts down by Nov 1, so we were at the very end of their season. With the federal government shut down only lifting the weekend before, I think a lot of places just gave up and stayed closed.
There were, of course, lots of beautiful overlooks!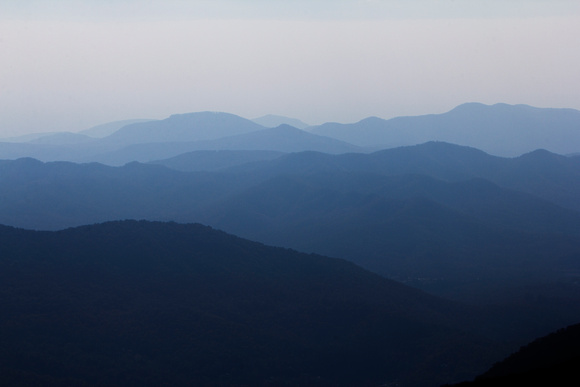 I love the layers and shades of blue!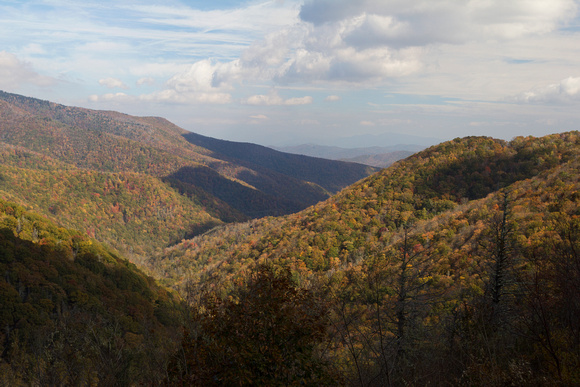 Next stop was Mount Mitchell State Park (Mile Marker 355). This park is complete with restaurant, bathroom facilities, and a short hike to the highest peak this side of the Mississippi. Mount Mitchell is 6684ft high. We mostly stopped here because we didn't know if we'd have another opportunity for food or bathrooms. We learned that lesson the hard way yesterday. I've been to this mountain MANY times with my grandparents. Growing up, grandma always wanted us to memorize the altitude. Yes, grandma, I did that from memory! I sure hope it's right:) It's definitely tall, and cold, and windy. And they were closing the restaurant for the season at 5p that day, so were offering a limited menu of soups and sandwiches for lunch. They left much to be desired, but it was sustenance. Everything had definitely already fallen here, and it was way too cold to stay outside long, so we went on our way.
Lucas's hip was in much better condition after taking a day off, and this pregnant lady was tired of sitting in a car, so at mile marker 339, we pulled off at Crabtree Meadows Recreation area for a 1.5 mile hike to Crabtree Falls. I had looked for waterfalls along the parkway before we left, and this one definitely looked the most impressive. This turned out to not be the leisurely stroll I had anticipated. It was a bit of a difficult hike down into the falls, but down isn't that big a deal. It did seem to take way longer than 1.5 miles. Even Lucas agreed that they must say that so people will actually do the hike. The hike was gorgeous, though, and worth it to get out of the car and get the blood moving some. I love all the cascades.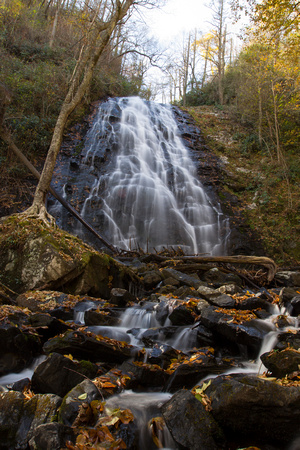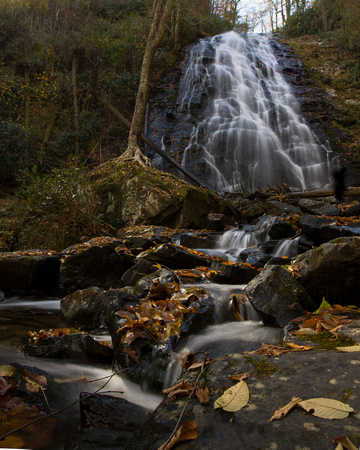 Thought I'd show off that baby bump in front of the falls!
We took the 2mi loop hike back to the parking area. This was considerably more difficult for me, as I'm sharing my oxygen with Sawyer. Uphill wears me out pretty dang fast, and 2 miles of it took me awhile. I had to stop and rest a few times. It's funny, if it were just me, I'd power through, overdo it, and get a headache or get over-heated. You just can't do that when you're breathing for two. You take a lot better care of yourself.
We zipped by the Museum of North Carolina Minerals (Mile Marker 331) that my geologist grandpa recommended. Sorry, did NOT sound exciting!
Next stop? Linville Falls (Mile Maker 316). This is a huge recreational area with tons of trails and options for hikes. We just did that hiking thing. I'll pass. I still needed to rest. So, we took the shortest route possible to see the falls. It was 0.5 miles to the first overlook. There were two little falls and lots of people. The bigger falls were further away, but good enough for me.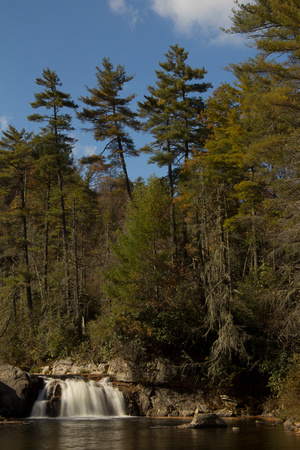 It was getting later in the day, and our hotel was still over 100 miles away. That's a distance when you're on the parkway. So, we limited our stops from here on out. We really wanted to just ride the road and see the overlooks after this anyhow.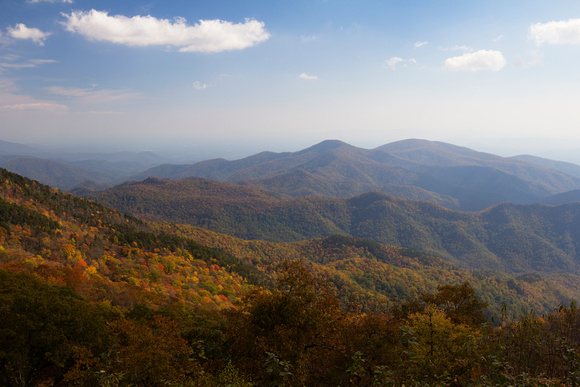 I'll mention the notable things we passed though! We went on by Grandfather Mountain (Mile Marker 305), and over Linn Cove Viaduct (Mile Marker 304). The Viaduct was actually pretty cool. Lucas had a little too much fun on it, and I felt like I was on a roller coaster! History lesson: the viaduct was the very last part of the parkway that was built. It wasn't finished until 1987. Work began on the parkway in 1935. That's a long project!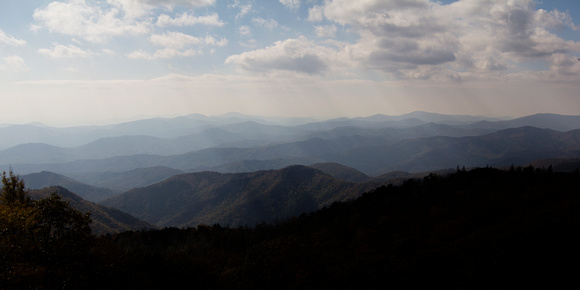 Around Boone, NC the parkway was closed for a few miles. I'm pretty sure it fell off the side of the mountain and may be closed for quite awhile! So, we took a short detour and hopped back on.
Lucas had already been to Blowing Rock (Mile Marker 291), so we didn't stop there. The wind blows just right so that if you drop something into the gorge, it will blow right back up to you lol. We passed by EB Jeffress Park (Mile Marker 272) and The Lump (Mile Marker 234).
It was already 5p and we were getting hungry, with no food options on the parkway. So, I had the bright idea that we get off the parkway right around the Virginia boarder and go east to visit Mt. Airy. This place touts itself as being the real-life Mayberry. They do have a valid claim that Andy Griffith grew up there. So, we took our side track to find some dinner. It was about 30min off the parkway. When we got there, we drove through the new section of town to find a few older houses and one road of the "historic downtown" that might resemble Mayberry. I've seen other little downtowns that are WAY cuter. Everything had a name appropriate to the TV show, like Opie's Candy shop. But, it was all closed on 6p on a Sunday. I suppose that might be what Mayberry would do. It really was just touristy and not very exciting. We finally found some food near the mall (that was closed). It all looked sketchy, but we opted for Aunt Bea's BBQ. How can you mess up BBQ? Yeah...Aunt Bea would be ashamed. It was not good at all. On the plus side, we ate for less than we can eat at McDonalds. There was even a drive thru, so it was practically a fast food joint. Lucas had to practically jump up and down and force them to give us our food out of the window, then we slathered it with BBQ sauce so it would be edible. And then we just felt GROSS afterward. Out came the tums and we headed toward our hotel.
We took the most direct route, as going back to the parkway would have taken waaaay longer. Not even a half mile off the parkway was the Woodbury Inn, our destination. Meadows of Dan, Virginia is not exactly a budding metropolis like Asheville where we stayed near last night, so we weren't expecting a whole lot. This hotel was also considerably cheaper than last night's. Even still, I'd have to rate it as just ok for the money. They had a beautiful little lake with Adirondack chairs to relax at, but the rooms were lacking. Immediately, Lucas began clogging up and he started searching to find out why: mildew on the curtains. The bed was clean and comfortable, though, and that's what we wanted. The TV had crazy stripes down it on most channels, and I didn't know they made toilet paper that ROUGH! Still, sleep is sleep.
Stay tuned for our final day on the parkway!
Missed Day 1? Find it here!
You can see select images from our trips to the Appalachian Mountains by Christine Lewis Photography here.