Here it is!
This blog will feature all of the maternity pictures I've taken in the last 9months. As I sit here, I'm 37 weeks pregnant and dying for this kid to make an appearance:) It's been a long 9 months and I've learned a lot of lessons by subjecting myself (and occasionally Lucas) to endless self-portrait sessions.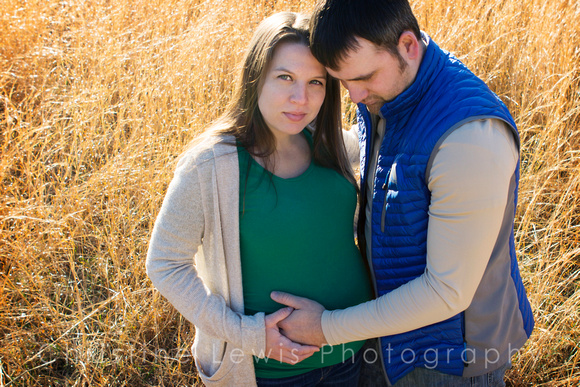 I'd like to start by giving a HUGE shout out to all the mommas that do maternity pictures. I've done lots of these in the past (see here for my faves!) and never really understood the amount of courage it took to do so. You aren't exactly feeling your best. No one is pretending that pregnancy enhances our best features. We all want to be the woman who gains exclusively in her belly, but this is very unlikely. There is still something so amazing and empowering about being pregnant, I too wanted to capture the moment as it is such a fleeting, transitional time in life. To all you mommas, I have a new respect for you!
Along that same line, I want to share a few tips that will enhance your maternity picture experience. Maybe, you'll even trust me to do your maternity photo shoot for you - one that will focus on the things that are supposed to be big (that belly!) and flatter those parts that you wish wouldn't have grown so much (Uhm, my face?!).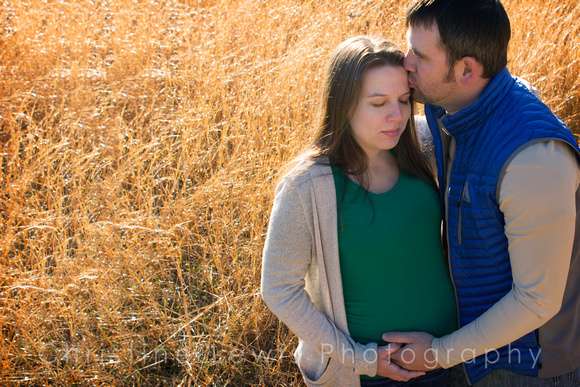 Tip #1: I typically recommend taking pictures around 31-35 weeks, depending on your pregnancy. My belly popped early, and I started gaining water weight, so we decided it would be best to go ahead and do ours at 31 weeks. If you take them too early, your belly won't be very pronounced - even if you feel like it's huge. If you wait to long, you will be uncomfortable and tired. Gotta catch you before all the 2nd trimester energy is totally drained:)
Tip #2: It's all about the angle. Almost ALL of these pictures were taken from a high vantage point. When I'm taking maternity pictures, I always bring a step stool or make sure there are things around to stand on. Everyone looks better from above. No double chin, for one! Now, this is almost impossible to do without a photographer. I wish I had taken a picture of what we rigged up to make this happen. It involved a 10 foot latter in a field with a tripod attached with bendy legs and a remote control. But, I'm not allowed to climb on latters, which made it very difficult for me to control the whole situation and position us just perfectly. There's a reason Lucas isn't looking and smiling in any of the pictures lol. Yes, it's that important to do this in order to get good pictures. Don't believe me?
Exhibit A: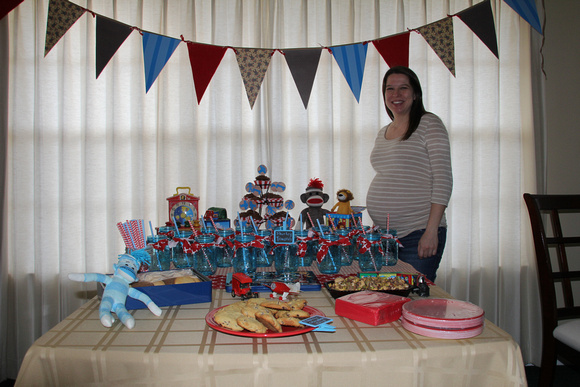 This was taken only a couple weeks later at a baby shower. But, I LOOK AWFUL. Why? Mostly because of the angle. This was taken about even with my belly to avoid catching the hanging light in the picture. Not exactly my favorite. At a shower you can't exactly pose pictures for flattering angles like you can at a photo shoot.
P.S. - Aren't they the cutest decorations ever though?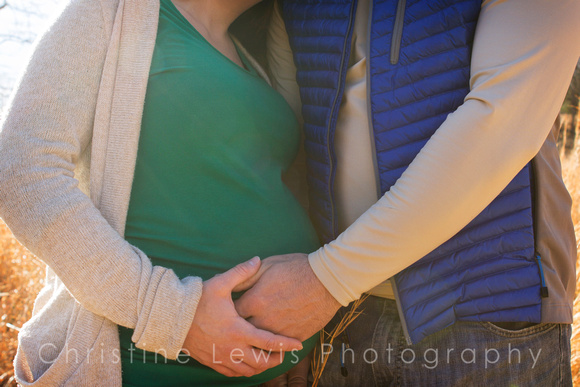 Wait, these aren't from above! Yeah, but they focus exclusively on the belly area. That's supposed to be big, so it's really ok. Notice I cropped out my chin? Yeah, that's because it was going a little double on me. It's all in the details.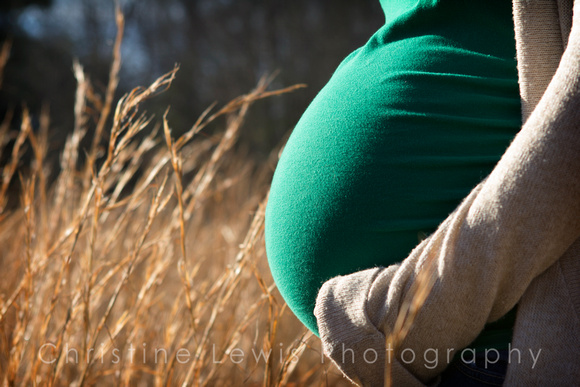 For these, I positioned myself and explained what I wanted to Lucas. We ditched the tripod, and my handy assistant did an awesome job.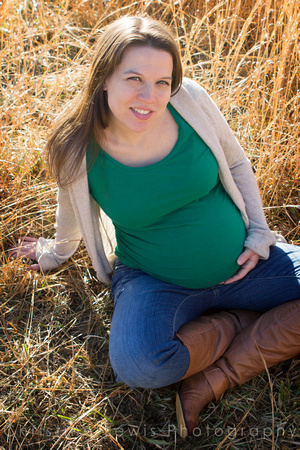 Tip #3: Wear something fitted. You want to show off that belly. The looser and less fitted, the less pregnant and larger you will appear. You want to show off the curves! At this point, it's hard to find clothes that don't look like one huge slippery slope from my chest to my belly. For pictures, you want some definition there. It's so much more flattering.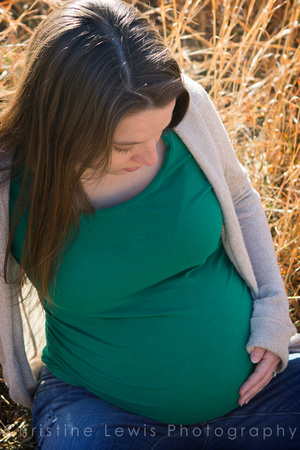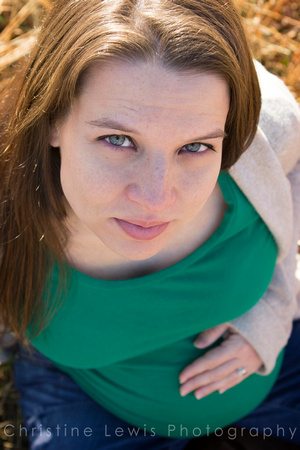 Tip #4: Wear color. Black and white are kinda boring any time, but white is typically not flattering - and during pregnancy we want all the help we can get. Black, on the other hand, is extremely slimming - maybe too much so. Sometimes it's hard to see that baby belly because it is too well masked! Instead, wear some color. I chose green because, for one, I have very few shirts that fit and this is one of them lol. Seriously, though, I knew I wanted a shot similar to the one above and green goes well with my eyes. Red is ALWAYS a winner and makes pictures pop. Brown and gray don't really count as color either, they are still neutral. If you'll notice, Lucas is wearing blue. We are both wearing brown to tie it together. So, you don't need to perfectly match, just coordinate:)
So, there you go! Hope my tips were helpful.
On to some not-so-natural light maternity pictures:)
Did I mention I set up an in-home studio? Well, at 32 weeks, I decided to play with my lighting. Here are the results of my experiments.
The silhouette shots.
Let me just say it took a long time to run back and forth between my tripod and the backdrop to get these just right. I'm learning a lot about how to make self-portraits easier, but man is it easier when I have a model!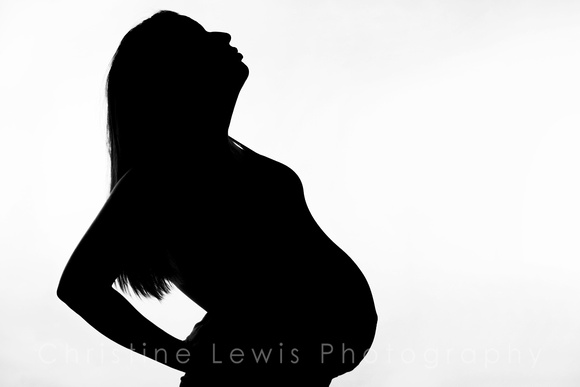 I even convinced Lucas to get in on the fun;)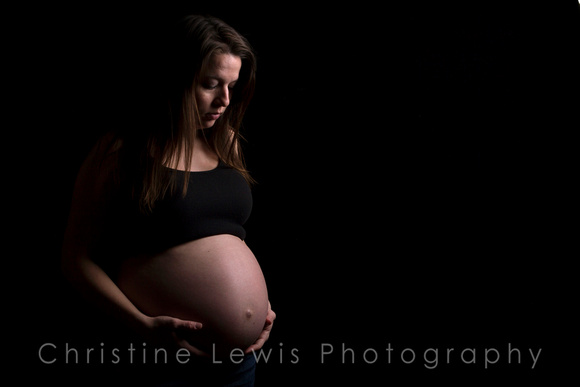 After exhausting my silhouette ideas, I tackled some dramatic low key lighting. I love how the above picture turned out, and can't wait for Sawyer to get her to make this a "before and after" set.
I didn't have a good way to get a higher angle on these, which would have been an improvement. The dramatic shadows, however, help thin and make the shot more flattering without the high angle being totally necessary.
So, those are my "official" maternity pictures.
Throughout my pregnancy, though, I have been taking a photo every 4 weeks to track my progress.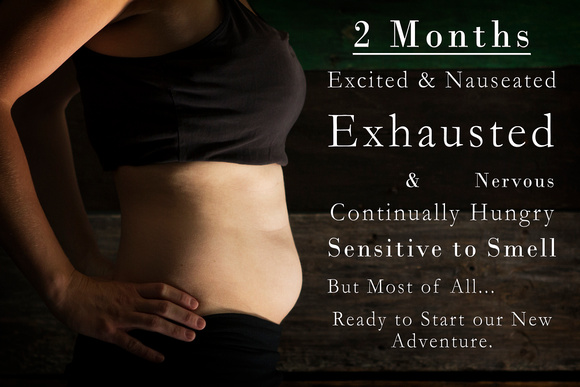 At 8 weeks. No growth here, just the belly bump I've always had:) It was fun to come up with some graphics to show a glimpse of what the last few weeks were like. Although, you'll notice I started running out of space for words!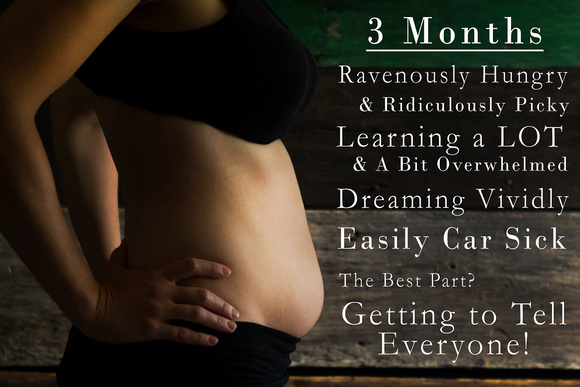 It's a bit difficult to plan for 9 months of pregnancy pictures to be exactly the same. I managed to make the same pants work the whole time, but you'll notice a few shirt changes.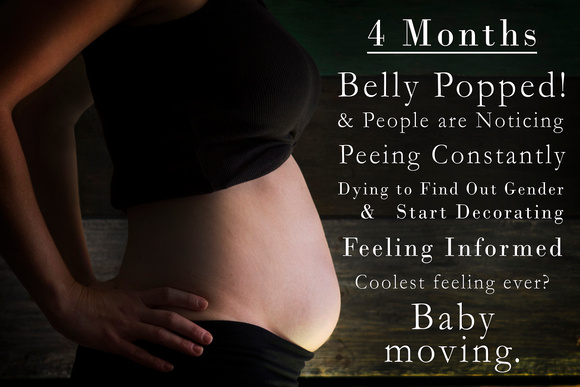 A few light changes as well, I might add. I started this adventure simply using the daylight that streamed in through the window while standing in front of our wall. Well, here's a thought: As the seasons change, so does the sun. It stopped coming through that window so perfectly, and I simply couldn't duplicate the lighting.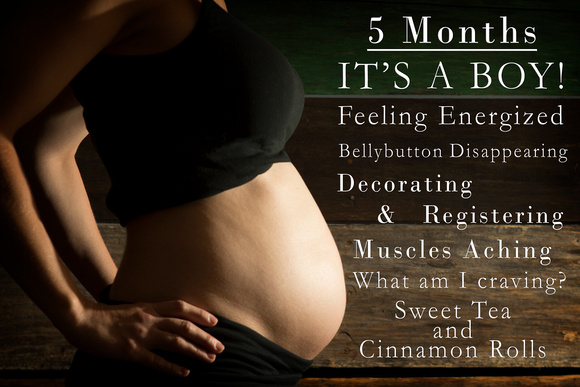 About this point, I decided to add an off camera flash to mimic the light coming through the window. The pictures look so much better and more consistent from here on out! I was amazed at the difference it made. Being mostly a natural light photographer, it has been fun to do something new and different and experiment with adding lighting to my own photographs.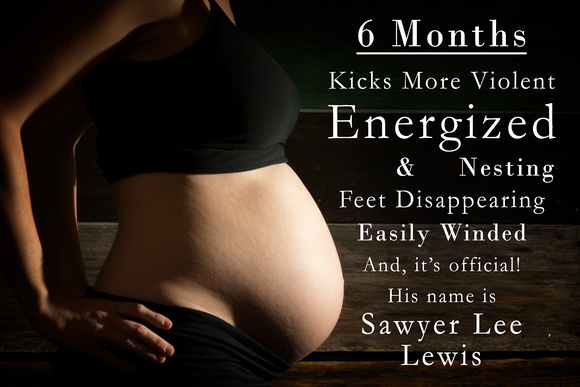 I'm also continuously amazed at how HUGE and basketball-like my belly really is. Cracks me up:)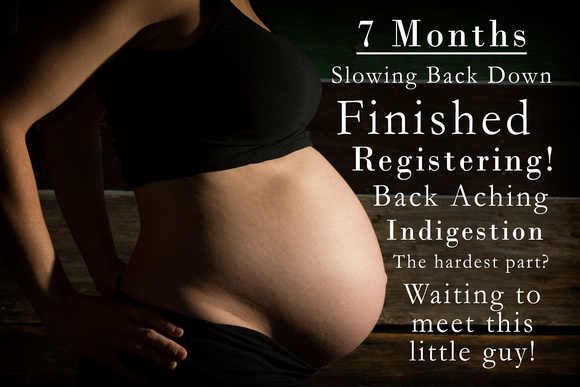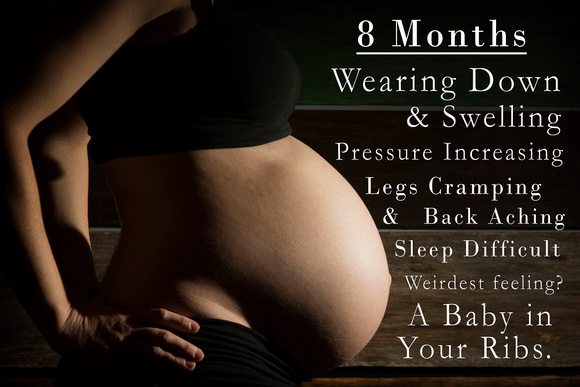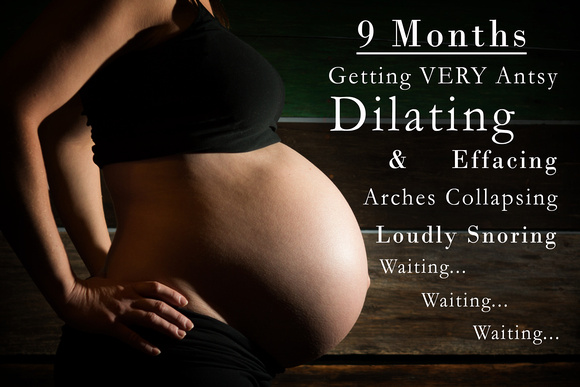 This last one was taken at 36 weeks. I'm hoping it's my last. I don't want to make it to a full 40! Sawyer is due to arrive on February 28, but he's welcome to make an appearance whenever he darn well wants to. I'm definitely hoping that is sooner rather than later.
Lots of newborn pics to come!