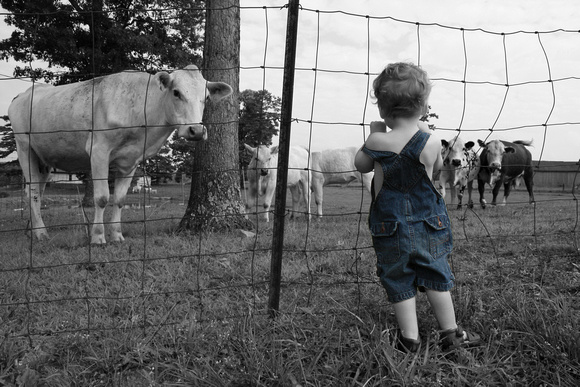 I can't believe I've never blogged this image!
This was actually my first photo shoot EVER. Tobin was 18 months old, so my sister brought him out to the farm to be my model:) These cows will rarely stay this close if people are around, but I guess they wanted to see who this kid was! They definitely stayed right there and stared at him the whole time lol.
This is one of two images I've taken during a photo shoot that I've also included in my fine art galleries. So, what makes a portrait a fine art print? Little kids always pull at the heartstrings, but this one in particular works as an art print because he could be any little country boy on any farm. To me, this picture exudes childhood. Not just Tobin's childhood, but childhood in general. Apparently I'm not the only one who things so! I've sold several copies of this image in my booth. I remember one couple saying they were looking for something just like this for their baby boy's nursery.
To see more of Christine's "Country Life" images, click here.