*As always, select images from our trip are available for purchase. They can be found here!*
After a good night's sleep listening to the roaring creek outside our window, we headed to Il Pirata for breakfast. This little restaurant was right across from our B&B. The twins, Massimo and Lucca, who own this restaurant used to own a bed and breakfast that was recommended to us by a friend of mine. Unfortunately, in October of 2011 there was a huge flood. I mean huge. We looked up utube videos. Take a look at the pictures of Vernazza from the sea. All the mountains come together, and meet at Vernazza. There's only one real street in Vernazza that runs right next to the creek, with the houses tightly stitched together with no spaces between them. In effect, it's a funnel. You can see a waterline on the houses at about the second story where the flood came. Almost all the bridges across the creek are still gone, in fact, only the one to our B&B has been replaced. Unfortunately, their B&B was absolutely washed away. You can see where half of the house is still hanging on to the hillside. It's a sad story, but Vernazza is repairing and coming back to life. In the meantime, we wanted to make sure to at least make it to their restaurant if we couldn't stay at their B&B. Oh, and it helps that they are the #1 restaurant in Vernazza according to Trip Advisor.
I have never met a restaurant manager as dynamic as Massimo. He either knew everyone who came in the door, or became best friends with them before they left. He joked and chatted with us the whole time. I don't know how they still run a prompt restaurant business, but they do! The pastries were ooey gooey fluffy goodness. He even recommended one for us, and unfortunately I have no idea what it was. But it was so good. But the best part? They daily import blood oranges from Sicily to make orange juice. This was the absolute best orange juice I've ever had in my life. Ever.
Vernazza is much quieter today. Apparently all the college kids and most tourists had to go back to where they were staying on Monday. Thank God. This was the quiet little town I had been hoping for.
After stuffing ourselves with carb and sugar-filled pastries, we took off to explore the remaining 3 cities. First up? Corniglia. We hiked the 2nd longest path from Vernazza to Corniglia. Yes, more crazy steep hills and steps.
More amazing views and tiny perilous trails.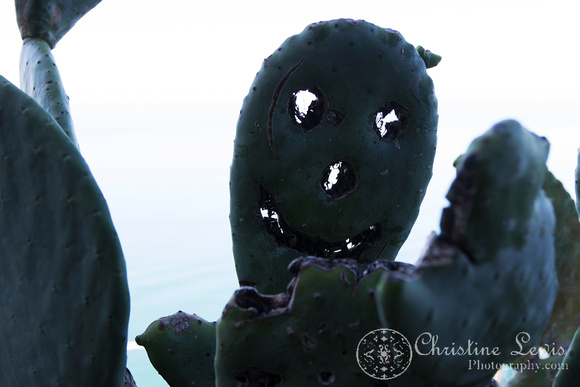 Someone cut out this smiley face in a cactus on the trail.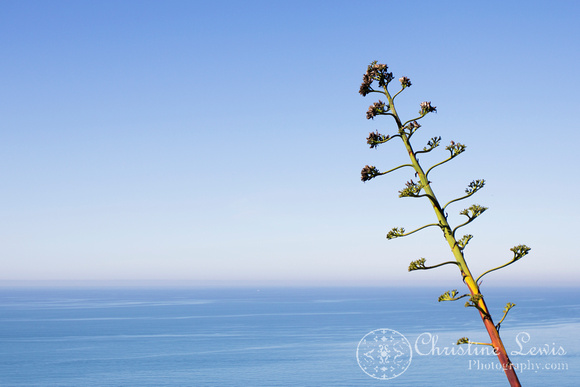 What's funny is that they put guard rails up on the trails at the weirdest times, like when it's 5 feet wide. Then, when you can barely put one foot in front of the other, you are totally on your own.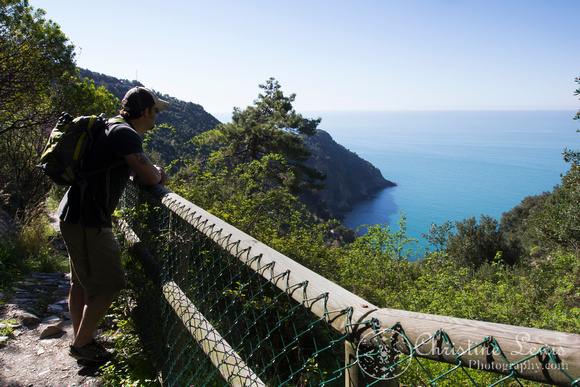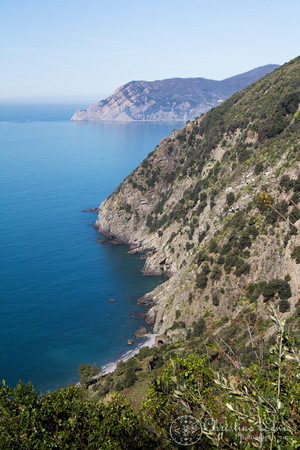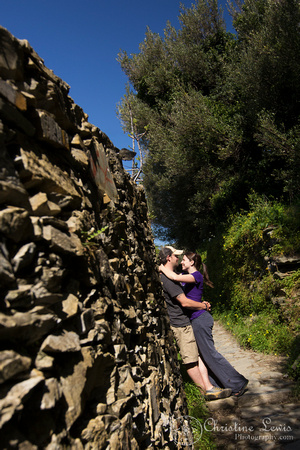 We stopped for a quick shot along the trail:)
Corniglia is by far the quietest village.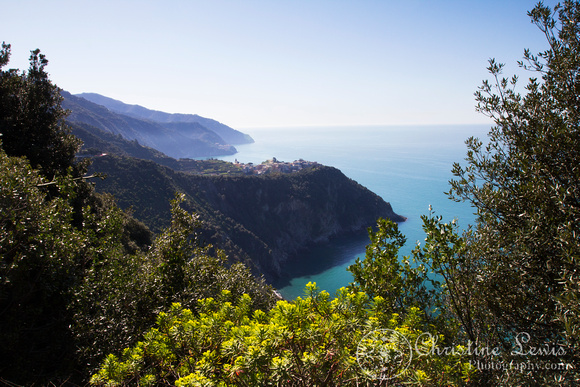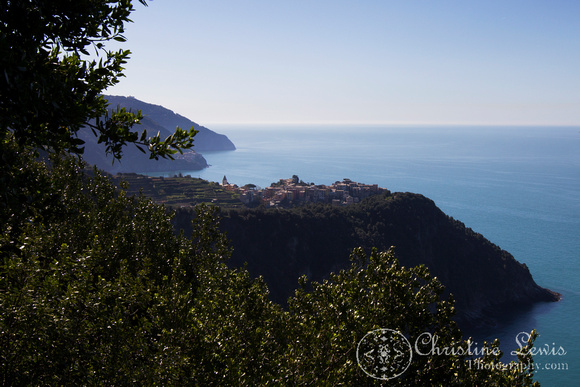 One major reason is that they actually have no harbor and no beach. This town is set high up on a hill.
It's very difficult to get to from the train station, however. You have to go up probably 300 steps just to get close to the town.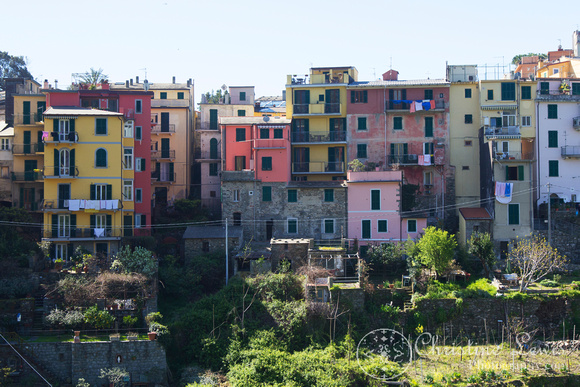 I don't think I'd want to stay here, unless I didn't plan on exploring the other cities much.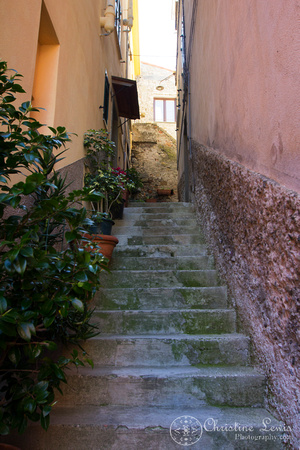 It did have lots of little side streets to explore, and beautiful views of the Mediterranean. We popped into a little bar and grabbed a panini for Lucas and I to snack on. You guys are going to stop believing me about how great the food was, because I'm starting to run out of adjectives. This panini was toasted and filled with gooey cheese, tomatoes, and olives. Nom nom nom.
Then, off we went to hike to Manarola. And that was when our hike came to a screaching halt. Unfortunately, the path was closed. I have no idea why but we could no longer hike between the cities. Corniglia has no harbor to catch a boat. There was another path that was open, but it would've taken probably 2 hours to hike. So...we waited for the train.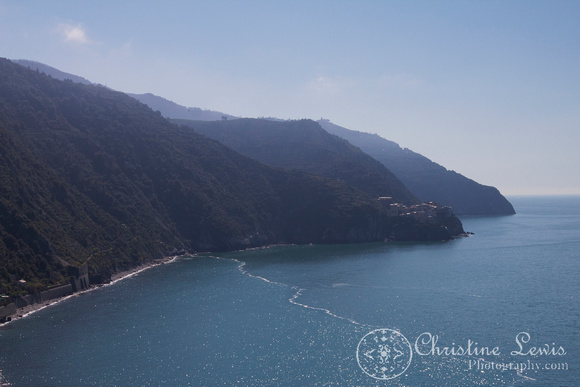 This is the view of Manarola from the train station in Corniglia.
I love how they terrace the mountainside. It had to take forever to do that! This is where most of their vineyards are, on the side of the mountain.
Manarola and Riomaggiore kinda blur together in my head. Both were much more busy than their northern counterparts. They were the prettiest, in my opinion, because they were the most "stacked" on top of each other.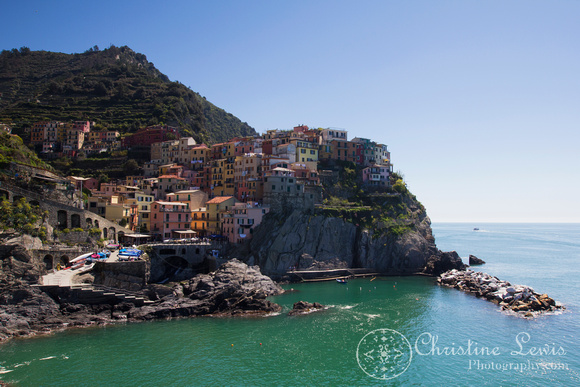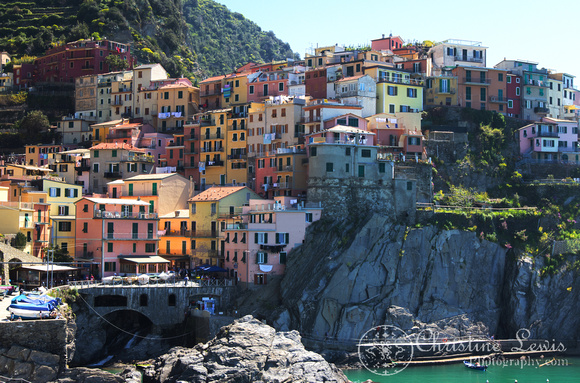 I love all the colorful stacked houses!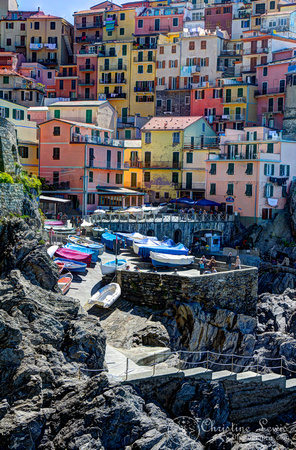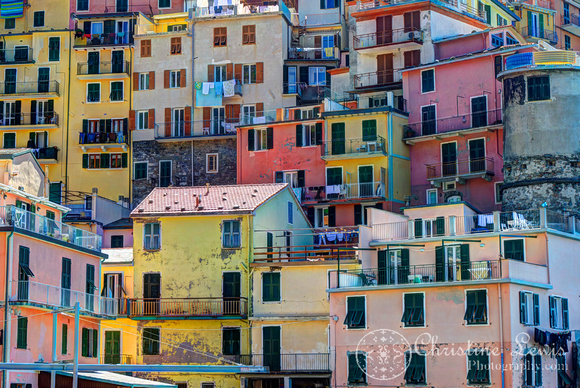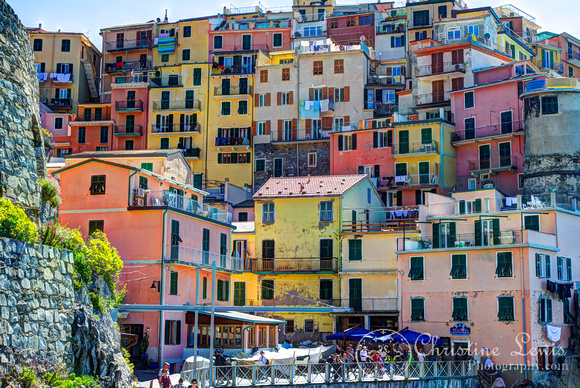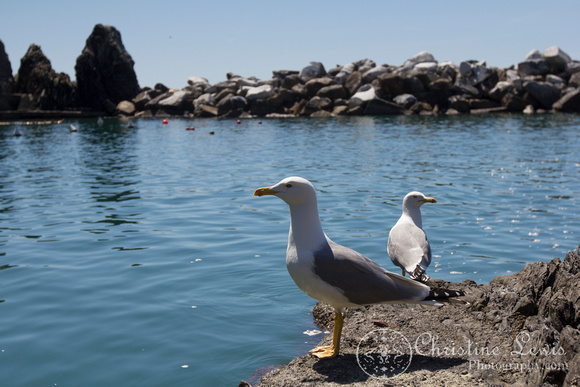 In Manarola, we decided we ought to eat more than just half a panini, so we stopped into another little side shop. I get a piece of pesto foccaccia bread, which essentially looked like pizza. We basked in the sun as we ate our lunch.
Lucas fed bits of his pizza to the begging pigeons. I scarfed down every last bite with not a crumb to share. Sounds about right for us:)
Riomaggiore's streets were steep. I mean, VERY steep.
We spent a lot of time in these last 2 cities wandering around, looking for good spots to take pictures. Afterall, the hiking trails were closed and that's where I had found most of the good overlooks.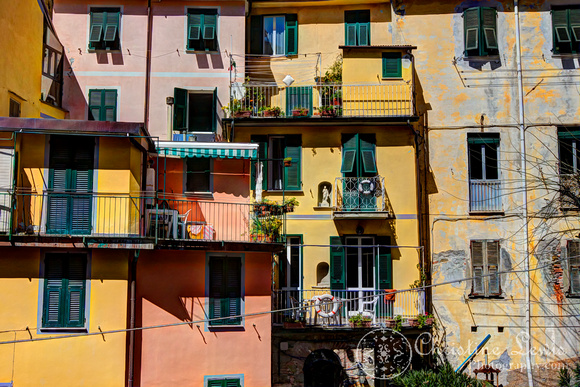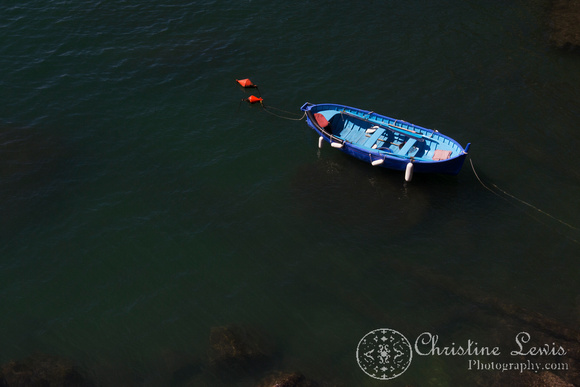 In the end, we decided we needed to climb out on the huge piles of rock to get a good view of the city. This took a few minutes, especially with legs shaky from hiking, and some concern for dropping my camera. But, we finally made it!
After we had exhausted all the exploring we could muster, we headed for Vernazza. But not by the hiking trail, and not by the train. This time, by boat. Thought it might be a good variety. We sat around for about 45 minutes, enjoying the sunshine and waiting for the boat to take us back to Vernazza. Turns out, this afforded some very good views of the little towns!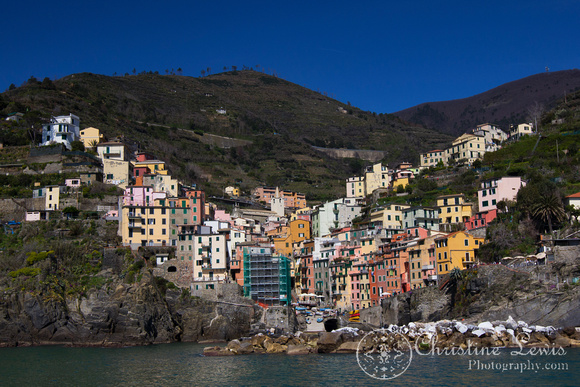 Riomaggiore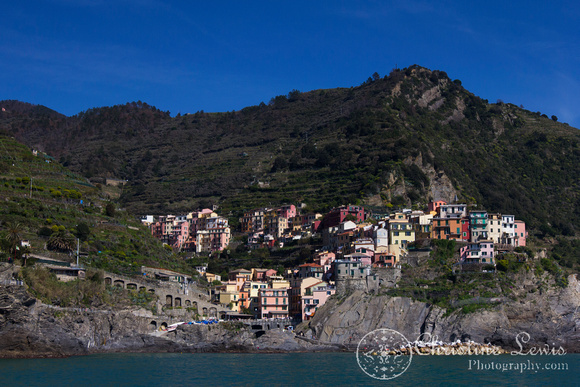 Manarola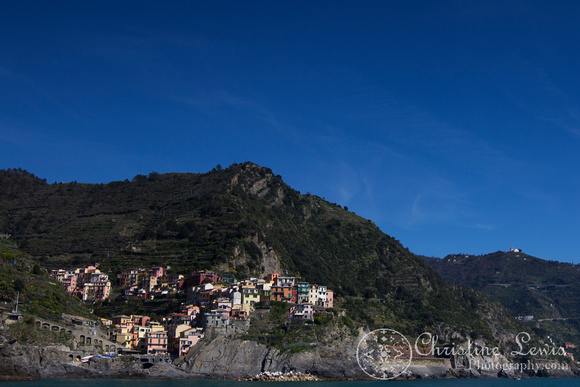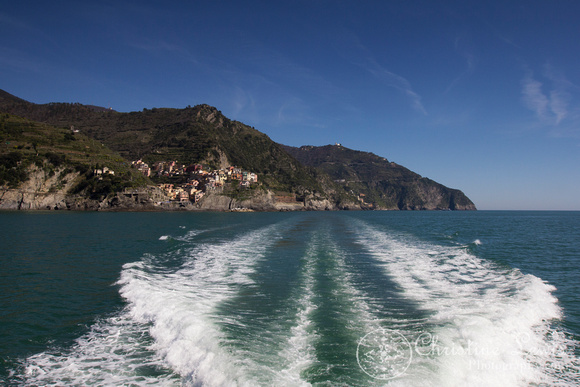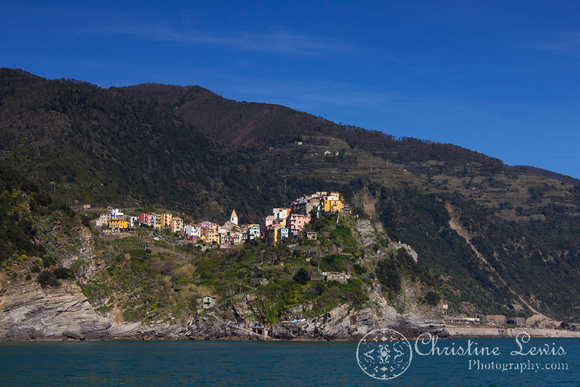 Corniglia
We decided Vernazza was the perfect city to stay in. Not as crowded as Riomaggiore and Manarola, not quite as remote as Corniglia, and less "beachy" than Monterosso al Mare.
We looked around in the tiny shops in Vernazza and stopped for some gelato at Gelato Vernazza, which was the best decision we made all day. This gelato, my friends, wins the prize for BEST gelato in all of Italy. I got one scoop of Ricotta and Fig, and another of Pistachio. The pistachio had real pistachios in it. It was so weird and good at the same time. But the Ricotta and Fig? Wow. Yes, real figs and creamy ricotta yumminess. Hands down, no question about it, my favorite gelato in the whole country.
At this point, it sounds like all we did today was eat. That might not be such a wrong assumption...the next thing I remember doing was going to Il Pirata for dinner! I had to try gnocci, because I hadn't had any yet. Mine was smothered in pesto. It was very good, but I've decided I don't like the consistency. I prefer the al dente pasta that I'm used to getting here. We had to try another version of tiramisu - equally as good as Belforte's, if not maybe better. Then, to finish the meal off I tried a regional specialty. A wine called sciacchetra. This is a dessert wine that is served in a shot glass of sorts. Massimo assured me that it was not, in fact, a shot, but should be sipped. I did sip, and it was SUPER sweet. By dessert wine, they must mean that it is the dessert, not that it should be paired with dessert.
This is where the story takes a turn for the worst. I won't go into great detail, because it's no fun. While at Il Pirata, we used their wifi to check our bank account. Turns out, our vacation budget had been almost completely drained. All we can figure is that the pickpocket who stole my phone was not just a petty thief. They somehow got my banking information, and were taking what looked like ATM withdrawals - even though I still had my bank card. After a few long talks, trying to figure out if somehow we had spent that much, we tried to go back but wifi was closed down for the night, and we didn't know how to use their phones. All we could do is wait it out til the next day when we'd be visiting a friend in France. It was a long night of waiting.
Day 9: From Vernazza to the French Alps
Today was mostly a day of travel, as it took 4 different trains, a taxi ride, a bus ride, and a car ride to get to the camp. All connections were successfully made, even with a few train delays. The scenery in this part of Italy isn't nearly as beautiful as Tuscany, until you start getting into the moutains. Apparently, this is where they get all that marble from. There were huge slabs of marble in factories all over the place, where they had been mining it from the mountains.
Traveling between countries was easy. The Italian police checked our passport on the Italian side, then they got off on the last Italian, and the France police and customs got on at the first French stop. Each set of police checked our passports, and the French customs did random luggage checks. What was exceptionally scary, was that there was a man a few seats in front of us that had problems. I know NO French, but Lucas knows a little. He thinks that this guy was using someone else's passport. The officer recognized the name on his passport and it was with a female last time he saw it, not a male. What? They took him off of the train at the next stop, and I'm sure he had some questioning in store.
We caught the 4p bus from Grenoble, and it quite literally became a school bus. Not sure why, but suddenly a bunch of school age kids got on, and it stopped at every single stop between Grenoble and Bourg d'Oisans. Lucas was about to go crazy thinking we'd never get there. We actually take turns worrying. The night before, he was telling me everything would be ok, and not to stress. When it took forever to get to the camp, I'm the one who was telling him we'd get there and not to stress about it. At about 5p, we finally arrived at Camp des Cimes. This is an English camp for French kids, nestled down between the alps in a town called Bourg d'Oisans. Lucas spent 2 summers after college volunteering at this camp, and we were so close that we had to hop over the border to visit.
It was so nice to see Mark Neddo's friendly face after a long night of stress. Fortunately, when we called our bank, USAA, they immediately said it was clear that our money was being stolen and that we would receive a refund within 3-5 business days. Nightmare over. Best bank ever. So, lesson learned: If your smart phone is stolen, call your bank and cancel any card that you've ever made internet purchases with. I'm still not quite sure how they got my debit card info from my browsing history, but they definitely did.
With the day suddenly looking brighter, we spent the night hanging out with Mark. He cooked us a traditional French dinner. The main course involved a little machine that lets you melt your cheese (along with whatever other toppings you want) on little pie shaped plates to your liking, in order to load up your own potato. Of course this isn't ordinary cheese. It's called Raclette. So good. Did I mention this machine that we used is exclusively used for this one meal? Oh, the French and their kitchen appliances.
Tomorrow, we explore the gorgeous French Alps.
Want to follow us on our trip? Read Days 1 and 2, Day 3, Days 4 and 5, Day 6, Day 7, Days 8 and 9, Days 10 and 11, Day 12, and Days 13-15.