On Day 3 we definitely felt a little more settled in and accustomed to Roman life. Today is the day to check out Ancient Rome. We headed out of the B&B around 9a and stopped into a little pastry shop called Noemi's. They were so very friendly and graciously helped out us Americans who had no idea what Italian breakfast looked like. Fortunately, it was a breakfast pie-lookin-thing with ricotta filling. Wow. I can handle this breakfast.
We caught the correct metro like pros and headed to the Colosseum. Now, when they name a stop "Colesseo," they aren't even kidding. You walk out of the metro, and there she is looming over you in all her glory. Shout out to Rick Steve's for putting together a free app with audio tours. We hooked up the headphones and set out to see the Colosseum without having to pay for a tour.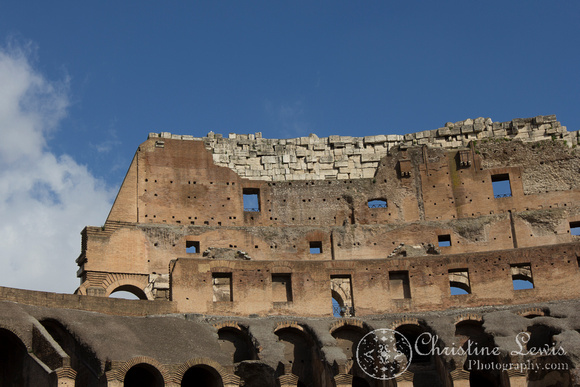 We all basically know the story about how they would force gladiators to fight in the Colosseum. Still cool to hear the history and see something that old. They don't build things like they used to huh?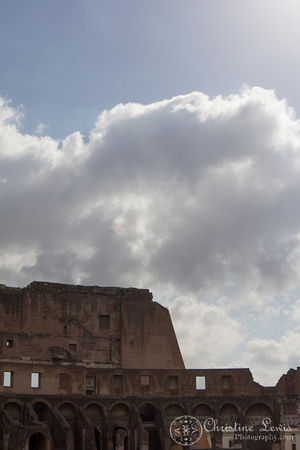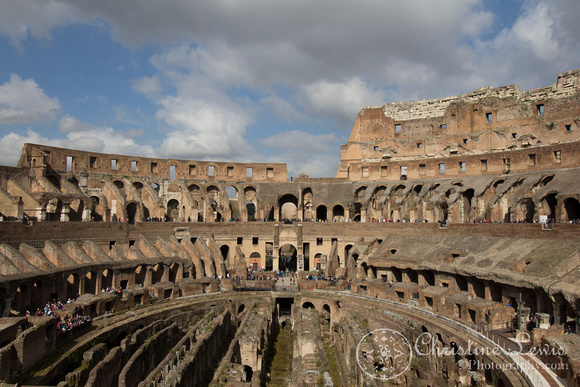 It was pretty cool to see what it would've looked like "backstage" under the Colosseum.
Rome has the coolest, Dr. Suess-like trees. We found out later they were called umbrella pines.
This because the start of a much carried-on debate between Lucas and I about the trees. He's convinced they are pruned to look that way. I'm convinced they are a new a fun breed of tree that I've never seen before. He decided he will prune a tree to look like that for me in Tennessee. I don't mind, I might get a cool lookin' tree:)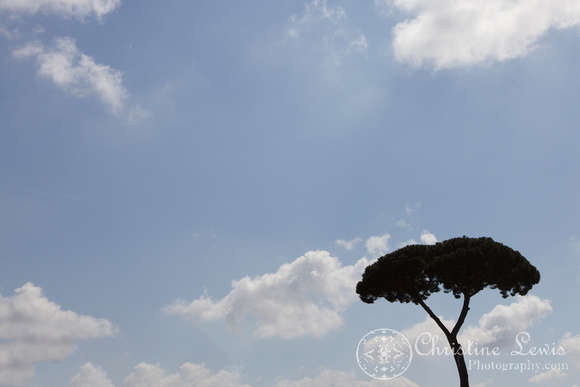 To be fair, you can tell they have been extremely pruned. But really, why would they have a name like UMBRELLA pine if at least some of it weren't natural??? Lucas did think it was quite odd that we went 5000 miles just to take pictures of trees. I like them though!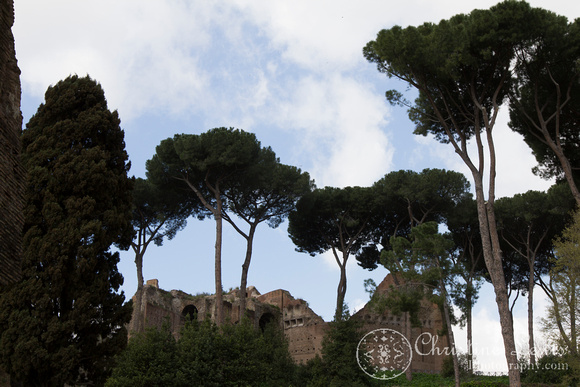 My favorite part of Ancient Rome, though was Palentine Hill. It's essentially endless ruins of the old Roman cities. I'm a big fan of anything old and abandoned.
I'm sure there was a lot of history to be learned here, but our brains were full and we just wanted to explore. So, explore we did.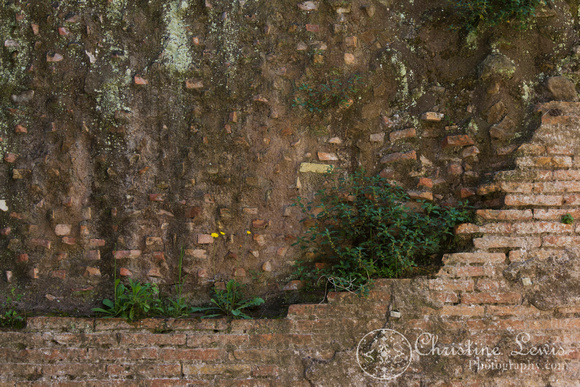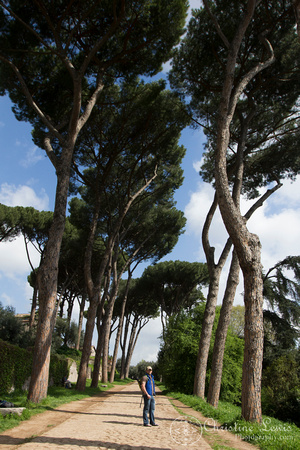 Yes, more umbrella pines:)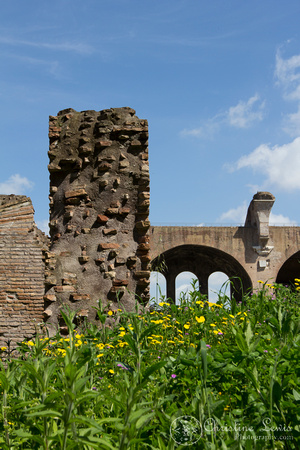 By the time we got to the Roman Forum, we were pretty exhausted. It was equally is cool and gorgeous, but it was getting later in the day and crowded.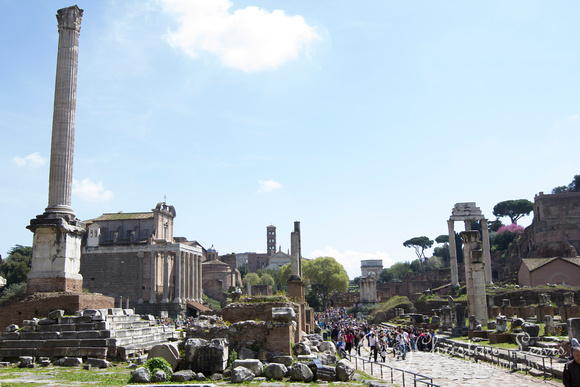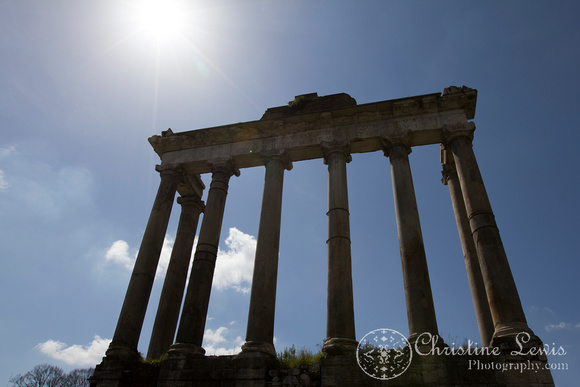 The Temple of Saturn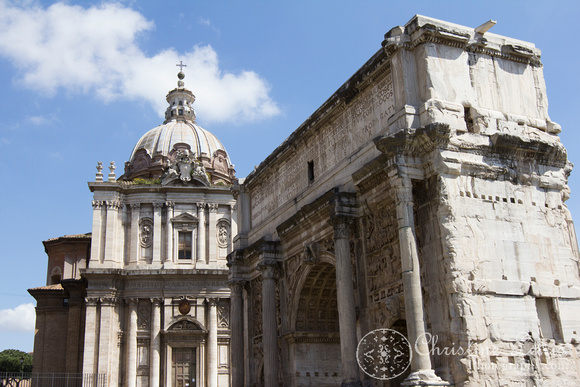 Time to ditch the ruins and find some lunch.
We found this cute little Sicilian trattoria called Melo. Lucas had some lasagna, and I had some amazing mushroom pasta. No idea what the sauce was, but man was it good. We tried some Sicilian cheesecake, but for once, I actually prefer the American version: New York cheesecake.
After lunch, we geared up for Centro Storico, historic downtown. We passed by the beautiful Victor Emmanuel Memorial building on our way to the gorgeous Church of Sant'Ignazio Di Loyola.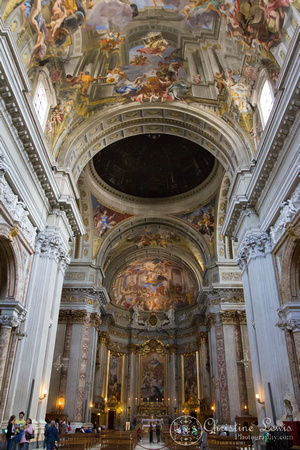 We stopped inside, and it was stunning. Not as big as the basilica, but we found out that no church is. Lucas actually started refering to the non-basilica like churches as "that small church," even they are still huge and amazing.
From there, we went to the Pantheon. Now that was cool.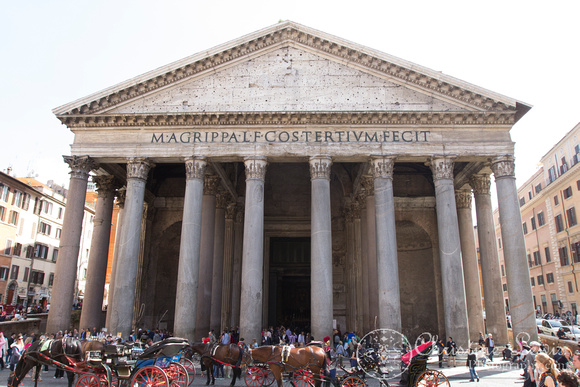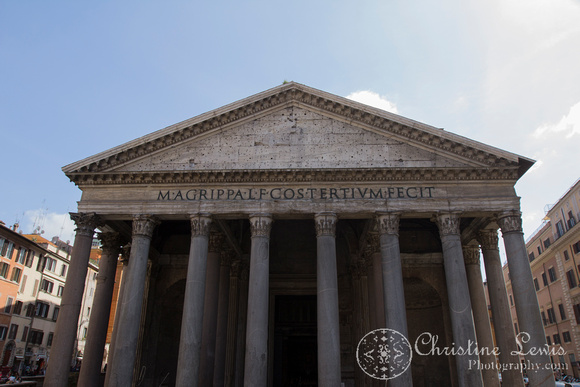 Originally commissioned as temple to the gods of Ancient Rome by Marcus Agrippa, it's now a Catholic church.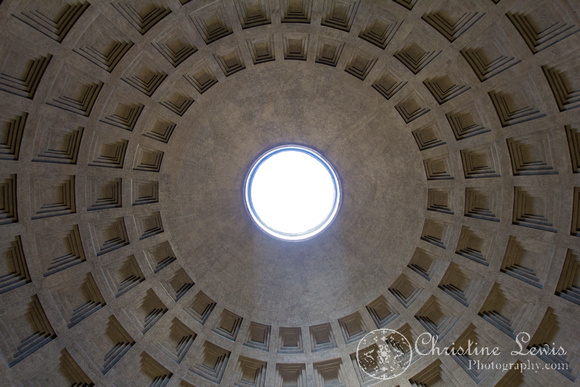 It's the first dome ever built and is still the world's largest unreinforced concrete dome. The painter, Raphael is buried here. I couldn't find the year it was originally commissioned, but it was rebuilt by Emperor Hadrian in 126 AD. Now that's old.
An obelisk in the courtyard outside the Pantheon.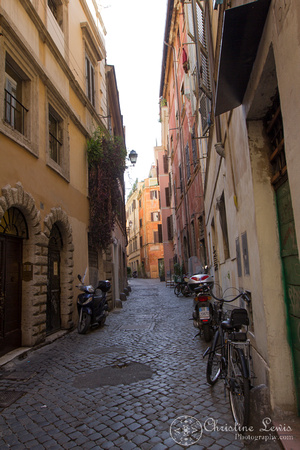 The streets of Rome. Can you imaging trying to drive your car on roads like this?
Another image from the street. This one is one of my favorites, because it just captures the essence of Rome. Cool old buildings mixed with crazy graffiti. It's EVERYWHERE.
We wandered about the downtown area, and came upon a watercolor artist on the way to Piazza Navona. We bought a beautiful watercolor with bright colors, and when we got to the piazza, lo and behold, it was COVERED with little artist stands selling these same prints. Apparently it was not an original. This guy was smart, he sold it to us for 5 euros more than those in the plaza. Suckered again. We did look, though, and never did find the exact one we bought. Oh well, it's still gorgeous:) The Piazza Navona had some gorgeous fountains, as well as some amazing artists. You know, ones that actually did do the work they were selling. Or so we think.
We passed through and made it to the Campo di Fiori right as the market was closing. That should be read: right when everything smelled absolutely disgusting. I'm sure this might be a pleasant experience during the day, but at this hour there were scraps and food leftovers all over the ground where they just left it there for the animals to clean up. It smelled pretty ripe.
We spent some time wandering around the narrow streets in the Travestere district. This is the area that many people in Rome actually live in. It was nice to be in a non-touristy area. We walked back across the Tiber using a pedestrian bridge that goes through Tiber Island.
After a much needed nap back at the hotel, we were ready for some dinner. We headed to Life over by the Spanish Steps. The steps weren't really anything to write home about. Plus they were very, very crowded. I'm not really sure why they are a big attraction, but we were hungry so didn't stay around to figure it out. The Caprese salad at Life was a very close contender for the best I had in Italy, and I had it a lot. I ordered the smoked salmon for my main course. When it came, it looked raw. I am not a sushi eater. I'm really not even a good meat eater. I was determined to try new things on this trip though, so I dug in. For a good six bites. Then Lucas traded me for his grilled chicken. Hey, I tried! Such a good hubby.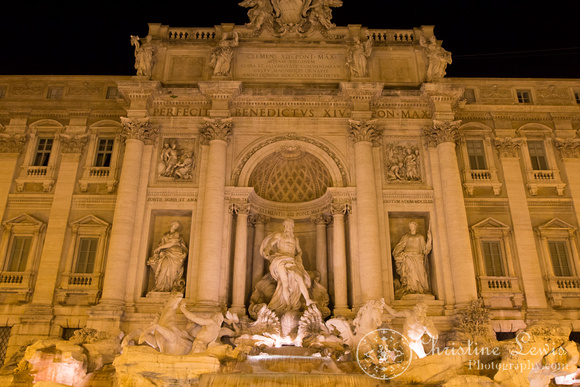 From there, we headed to the Trevi Fountain. I purposely waited until it was dark. I've read that it's pretty during the day, but gorgeous at night. I'm pretty sure everyone in Rome had read the same thing because it was crowded, but they weren't wrong!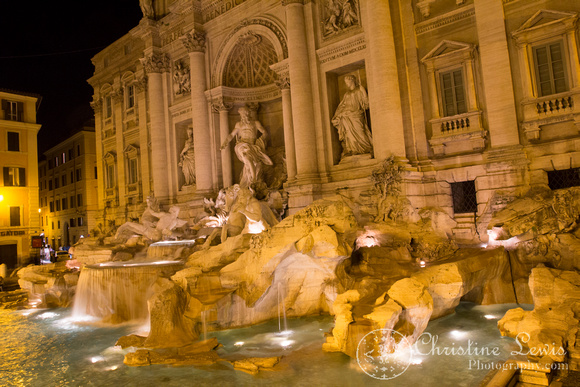 I broke out the tripod for some fun long exposure night/running water shots. Way more fun than snapshots.
And, because I'm a sucker and read "Eat, Pray, Love," I had to stop at San Crispino for some gelato. It was good, but not as good as I had hoped. But hey, I ate at the place from the book:)
We hopped back on the metro and headed back to the Colosseum.
Being goofy on the metro.
Once again, pretty during the day and gorgeous at night:)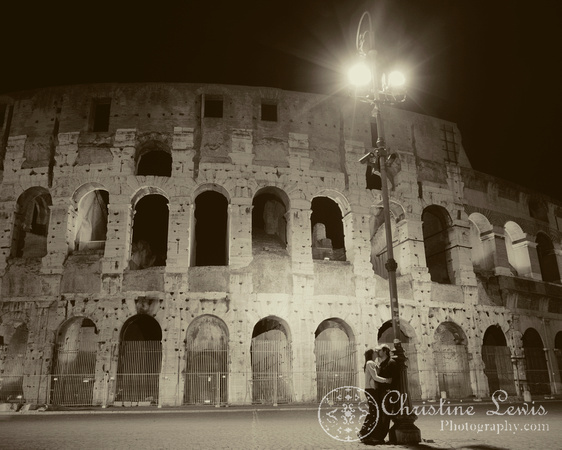 Lucas and I had fun taking pictures of us.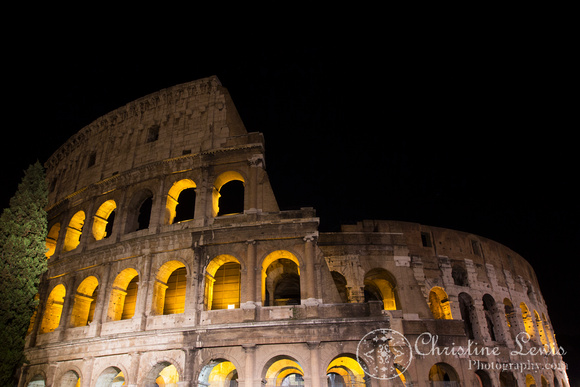 Then I set up to take some of the Colosseum it's self.
The sound track for our night? A musician set up behind us with his guitar and an amp. Santana's "Smooth" will forever remind me of our night at the Colosseum! I did have to retake a few pictures due to tourists dancing into them, though!
Want to follow us on our trip? Read Days 1 and 2, Days 4 and 5, Day 6, Day 7, Days 8 and 9, Days 10 and 11, Day 12, and Days 13-15.
Select images from our trip are available for purchase. Find them here!